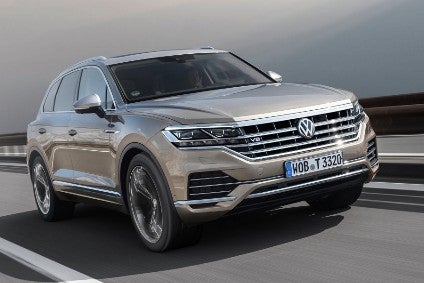 Is the Volkswagen Group planning to take the radical step of turning the next generation VW Touareg and Audi Q7 into EVs? Might there also be electric Škoda and SEAT (or Cupra) SUVs positioned above the Kodiaq and Tarraco successors?
"At its meeting today the Volkswagen Group supervisory board confirmed the award relating to the production of new additional cars by Volkswagen Commercial Vehicles (VWCV) in Hannover. In addition to its own T model range and the ID. BUZZ, VWCV will in future also produce three fully electric D-SUV models for further brands of the Group. Backed by investment of around 680 million euros, Hannover is being developed into a multi-brand site," reads a media release from Volkswagen.
Turning the Touareg and Q7 into EVs could be only two pieces in an even bigger jigsaw too, if the third future electric 'D-SUV' turns out to be either a Touareg Coupé or potentially the largest Škoda model yet. As it isn't clear if Volkswagen passenger cars is considered to be a separate brand to Volkswagen Vans, the third model might instead be a big SEAT.
The other possibility for the identity of the third D-SUV – although less likely – is the fourth generation Cayenne. It would be more logical for this model, while sharing the Group's MEB platform with the other 4.8-5.0 m long SUVs, to remain at Porsche's own Leipzig works. A follow-up to the Cayenne Coupé, also on MEB and again manufactured at Leipzig would lag the introduction of Cayenne 4 by some months, meaning a market launch also in 2026.
Timings for the three D-SUVs if they are in fact the next Q7 and Touareg would be the third quarter of 2023 and fourth quarter of 2025 respectively. Bratislava, which is where the existing models are built, will likely lose these vehicles when the next Passat and Superb go into production there in 2023.
Handelsblatt has offered a different take on Volkswagen's possible plans, a translation claiming that a "flagship electric car for Audi, Porsche, Bentley" would be built in the Hannover factory. The project is said to be codenamed 'Roadjet' and part of Audi AG's Artemis initiative which has a focus on future technology, including automated driving.
The German language newspaper claims an Audi SUV would be the first of three models, its launch in 2024 supposedly followed by models for the two luxury brands. Building high-end vehicles within a vans plant would be an unusual move.
More details, along with what becomes of other vehicles for the Volkswagen Group's manufacturing base in Slovakia as well as those to be produced by Volkswagen Nutzfahrzeuge at its Hannover-Stöcken works can be found in PLDB. This future models database is part of Global Data's Automotive Intelligence Center.