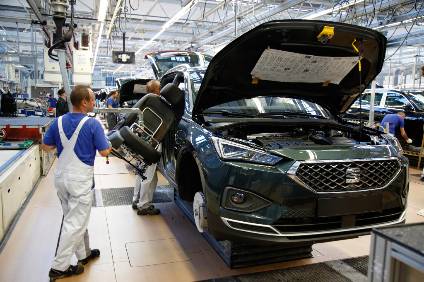 Like many other automotive manufacturers in Europe, Volkswagen Group is planning to temporarily suspend production at its European plants due to the ongoing severe impact of the COVID-19 coronavirus crisis.
According to reports, many plants will see their last operational shifts this Friday (20 March). VW's move reflects supply chain disruption and a rapidly deteriorating outlook for demand.
"Given the present significant deterioration in the sales situation and the heightened uncertainty regarding parts supplies to our plants, production is to be suspended in the near future at factories operated by Group brands," Chief Executive Herbert Diess said, according to Reuters.
Reuters reported that production will be halted at Spanish plants, in Setubal in Portugal, Bratislava in Slovakia and at the Lamborghini and Ducati plants in Italy before the end of this week. The report added that most of the other VW Group European plants will begin preparing to suspend production for a period of up to three weeks.
The company also warned that the spread of the coronavirus made it almost impossible to give an outlook for 2020 financial performance.
"The spread of coronavirus is currently impacting the global economy. It is uncertain how severely or for how long this will also affect the Volkswagen Group. Currently, it is almost impossible to make a reliable forecast," chief financial officer Frank Witter said.
VW Group also confirmed its 2019 financial results and said it had a very successful year, with sales revenue up 7.1% to EUR252.6bn and operating profit before special items up 12.3% to EUR19.3bn.
However, VW Group CEO Herbert Diess described 2020 as already 'very difficult'.
Diess said: "2019 was a very successful year for the Volkswagen Group. We have laid vital groundwork for all relevant changes. 2020 is a very difficult year. The corona pandemic presents us with unknown operational and financial challenges. At the same time, there are concerns about sustained economic impacts. We will succeed in overcoming the corona crisis by pooling our strengths and with close cooperation and high morale in our group."