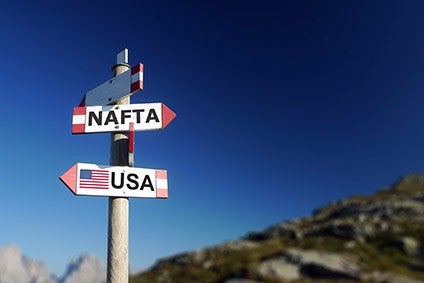 Voestalpine's Metal Forming Division has opened two new plants in Mexico hot on the heels of this week's agreement between Washington and Mexico City concerning a new trade deal.
The accord – which could potentially see Canada frozen out of any future incarnation of NAFTA if hints by US President Donald Trump come to fruition – homes in on the automotive industry.
The US and Mexico have announced they have reached agreement in the trade negotiations, which are part of an effort to revamp the NAFTA trade agreement. However, Canada – the third participant in NAFTA – is yet to agree to the new rules.
Local content on automotive products traded between the NAFTA nations had been a contentious sticking point in negotiations between the three countries.
The US and Mexico agreed to increase regional automotive content to 75% from the current 62.5% in NAFTA, with 40-45% of production by workers earning at least US$16 an hour, the US Trade Representative's office said. That measure is aimed at discouraging manufacturers from relocating to lower-wage Mexico.
At Voestalpine's plant in Aguascalientes, Mexico, where construction started in 2016 after securing a major contract with an unnamed customer, production of body-in-white and structural parts has been recently ramped up to full capacity.
Due to demand, capacity will be extended further by 2019. Production of automotive tubular assemblies at the plant in Zacatecas started at the end of 2017.
"It was proximity to our customers and the growth in demand, which were key factors in our decision to significantly expand our automotive activities in Mexico," said Voestalpine chairman, Wolfgang Eder.
"At the same time, we are keeping a very close eye on trade developments across the entire NAFTA region and the new locations enable us to react more flexibly to specific framework conditions."
Eder noted it was not yet possible to determine the potential impact on Voestalpine activities concerning the new agreement between the US and Mexico.
This month (August, 2018) the serial production of body and structural components used in vehicle cross-members, roof frames and rears started at the new site in Aguascalientes, which was established primarily in response to having secured a major contract for an unnamed premium automotive manufacturer worth USD600m (US$701m).
Voestalpine Automotive Components Aguascalientes also makes wheel housings, manufacturing the Group's most complex automotive component to date consisting of 20 individual parts.
Since 2016, Voestalpine has invested EUR15m in developing the new plant and capacity will be expanded further by 2019 with a similar level of investment. Once complete, around 80 employees will operate ten assembly lines in the 10,000 m2 plant.
Another Metal Forming Division automotive site has now been officially opened a further 120km to the north at Zacatecas.
Voestalpine Rotec has been producing tube components used in vehicle undercarriages, steering systems and car bodies at the 3,000 m2 plant since November, 2017. Forty employees work at the plant, operating five production lines.