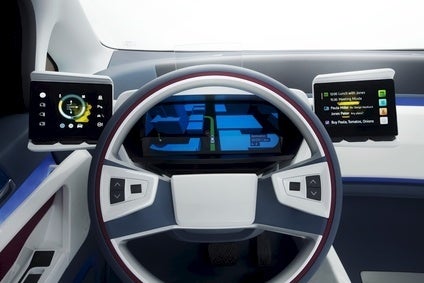 In the second quarter, Visteon reported net sales of $848 million representing a year-over-year increase of 42%, excluding the impact of currency. It said the big gain was driven by new product launches and positive pricing due to incremental costs recoveries related to semiconductor shortages.
Total industry production was flat while vehicle production at Visteon's top customers increased 6% in the same period. The company's sales performance represents 36% growth-over-market, the 13th consecutive quarter of market out-performance.
Gross margin in the second quarter was $74 million, and net income attributable to Visteon was $24 million or $0.85 per diluted share. Adjusted EBITDA, a non-GAAP measure as defined below, was $79 million for the second quarter or 9.3% of sales, an increase of $49 million compared to the prior year. The increase in adjusted EBITDA reflects the favorable impact of higher sales volumes and increased customer cost recoveries net of higher semiconductor costs.
Visteon said it launched 11 new products in the second quarter bringing the first half total to 27 new launches. Key second quarter launches include a 12-inch all-digital cluster for the Ford Everest and Ranger and a curved multi-display module on the Maserati Grecale, the all-new flagship crossover SUV for Maserati.
The company also launched a SmartCore cockpit domain controller with Geely on their new all-electric SUV under the Smart Brand as well as a 10.25-inch infotainment system and display on PSA's Citroen C3 supporting Apple CarPlay and Android Auto in the South American market.
Visteon said it won $3.1 billion of new business through the first half of the year, with more than 50% of programs on electric vehicle variants. Second quarter wins included our latest generation SmartCore™ cockpit domain controller on an all-electric SUV platform for a European OEM, our first cockpit domain controller with this automaker. Visteon also won a 12-inch display for a luxury German OEM, also our first center information display win with this OEM.
Sachin Lawande, President and CEO, Visteon said: "I am proud of Visteon's double-digit growth-over-market performance in an environment of constrained supply exacerbated by the lockdown in Shanghai due to COVID-19. The Visteon team performed exceptionally well to secure supply and support our customers' production in this challenging environment. Our digital products continue to do well and we are happy to report another strong quarter of new business wins with over $2 billion in lifetime revenue."
Visteon is maintaining full-year 2022 guidance and anticipates sales in the range of $3.150 – $3.350 billion, Adjusted EBITDA in the range of $295 – $335 million, and Adjusted Free Cash Flow in the range of $85 – $115 million.