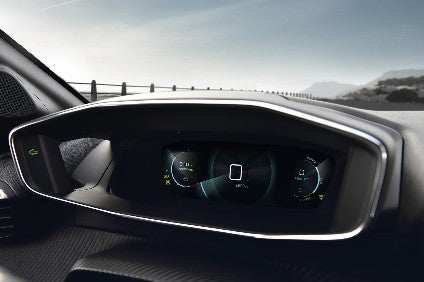 Visteon, which claims to be the leading supplier of automotive digital instrument clusters, has claimed an industry first: a fully digital instrument cluster displaying holographic objects for the redesigned Peugeot 208.
Part of the French brand's 3D i-Cockpit, the cluster is "the first real 3D cluster in automotive production", according to the supplier.
It worked with PSA Group to develop the '3D Blade' which displays advanced reflections to create the impressions of 3D graphics.
The cluster uses a high-definition 10.25-inch 'background' thin-film transistor (TFT) and a seven-inch 'foreground' TFT projected on a semi-reflective blade.
This results in a 3D projection of approximately 15mm between the front and rear images.
"Visteon's first-to-market [cluster] brings 3D technology to an exciting vehicle segment with mass market appeal," said Loick Griselain, head of the supplier's customer groups.
"With distracted driving continuing to pose a challenge, presenting critical information to the driver in intuitive ways will be the key to successful, next-generation human-machine interaction (HMI) development. The cluster exemplifies how all-digital [displays] enable automakers' HMI designers to give a perception of depth in displays to highlight critical information for the driver."
The cluster's projection offers stylists the flexibility to create depth with rotating menus and shadow effects and bring a distribution of key information to the driver including priority information such as speed and alerts.
The display also allows animations to pass dynamically from the foreground to the background in ADAS modes or as 3D animations in a number of configurable colours and skins.
The 3D cluster is the first of several variants PSA Group will launch across its three brands in future in a number of sizes.
Sharing the same platform as the DS3 Crossback cluster, the 208 3D cluster – with its two TFTs surrounded by tell-tale lamp satellites – also provides high-quality graphical content with animations and 3D content on both screens, in a complex and calibrated mechanical structure.
This, Visteon said, "allows a true sense of depth to the driver, without distraction".
The 3D technology is available on higher specification 208s while the entry level version retains an analogue cluster which Visteon also supplies.