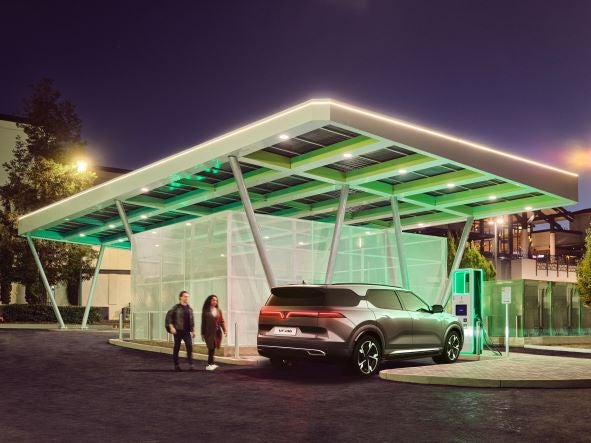 Electrify America will provide owners of VinFast electric vehicles in the US with two complimentary charging sessions along with access to a coast to coast network using a mobile app.
The deal was announced at the New York auto show as the Vietnamese EV maker readies two new models for US launch.
The VF8 and VF9 models will have Plug & Charge which allows drivers to pay for a charging session by plugging in their EV once billing information is set up on the app.
Electrify America, set up by Volkswagen of America following its 'dieselgate' scandal, has 800 EV charging stations and about 3,500 individual chargers open or with construction completed. The company offers 150kW and 350kW chargers, the fastest speeds available.
Electrify America is updating chargers and adding features like solar canopies and awnings, customer waiting areas and other services at some locations.
The company also received the "Best-in-Test" award for two consecutive years in the categories of Best Electric Vehicle Charging Infrastructure (2020) and Best Digital Platform (2021).
VinFast has agreed a deal to build car plant in North Carolina at a cost of up to US$2 billion.