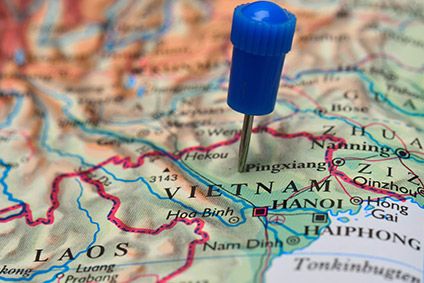 Vietnam's new vehicle market continued to fall in October 2021, by 14% to 27,149 units from 31,607 units a year earlier after plunging by 54% in September, according to wholesale data released by the Vietnam Automotive Manufacturers Association (VAMA).
The government began to ease its tough lockdown restrictions in large parts of the country in October, which were put in place in mid-July to help contain the worst wave of covid infections since the pandemic began in early 2020. The south of the country, including the business capital Ho Chi Minh City, was the worst affected area with business and consumer activity severely impacted and regional supply chains disrupted.
The country's GDP estimated to have contracted by 6.2% year-on-year in the third quarter and economic growth forecasts for 2021 have been revised sharply lower, with the Asia Development Bank now expecting full-year GDP growth of 3.8% compared with 5.8% in July.
Vehicle sales in the first ten months of the year were down by over 3% at 197,222 units compared with 204,145 a year earlier, with a sharp third-quarter decline wiping out earlier gains. Passenger vehicle sales fell by 7% to 140,580 units in this period while commercial vehicle sales were up by 8% at 56,642 units.
Truong Hai (Thaco) group, the local assembler and distributor of brands such as Kia, Mazda, Peugeot, BMW-Mini and a significant player in the commercial vehicle segment, reported a 6% rise in group sales to 75,604 units in the ten-month period. This includes a 28% rise in Kia sales to 32,153 units, while Mazda sales were down by 21% at 18,380 units and Thaco truck sales were 3% lower at 18,710 units.
Toyota's sales fell by 10% to 45,131 units year-to-date; while Mitsubishi Motors' sales were down by 5% at 19,279 units; Honda 15,416 units (-16%); Ford 18,200 units (+1%); and Suzuki 9,320 (-13%).
The VAMA data do not include sales by domestic start-up Vinfast, which reported 3,320 vehicles sales in October and 28,847 year-to-date. Last month the company launched its first electric vehicle, the VF e34, and has been busy rolling out an EV recharging network across the country this year.
Vietnam is looking to raise its emission standards to Euro 5 in January 2022, which is expected to affect imports from neighbouring countries such as Thailand and Indonesia, but could favour VinFast which has been lobbying the government for additional EV sales incentives.