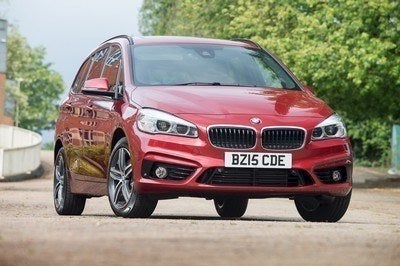 As recent registrations data from Germany reveal, BMW's decision to spread engineering resources into additional models has brought good and bad news. Now, the just-launched LWB 2 Series MPV should, the firm hopes, attract many conquest sales.
As we know, the Active Tourer has been available in Europe and certain other markets for several months. Until I got behind the wheel of the long wheelbase Gran Tourer, driving a front-wheel drive BMW was something I hadn't experienced. Even the i3 has its power delivered to the rear axle. That's one of the reasons why that little car is so much fun.
The big question, then. Is the long 2er five-door ruined by understeer or too rolly-polly? Not a bit. What the chassis engineers have achieved is astounding.
On the UK media launch, journalists were invited to throw the car round a series of cones – the famous elk test comes to mind – with an expert instructor in the passenger seat. Even with so much thick glass way above the centre of gravity, the F46, to call it by its codename, stayed relatively flat on these simulated sudden lane changes on a closed runway.
Tyre screech? Yes, a tiny amount. Sloppy steering? Nope. BMW couldn't afford to let its first front-wheel drive models be anything but superb at handling and holding the road.
I am yet to try the F45 Active Tourer but its shorter wheelbase would likely give it a slightly inferior ride, but that's me guessing. Certainly, even in the 40-20-40 second and 50-50 split third rows, comfort levels were very good and yes, I did say third row. The seating systems aren't quite as clever as Honda's Magic ones but they're very well designed nonetheless. Light and quick to flip, and you can even fit up to five universal child seats, should you have the need to do so. The second row's backrests will recline, and the squabs slide by up to 130mm, while the third row can be folded into the floor. If you need to carry an especially long object, that's no problem, as this car will take items up to 2.6m in length.
Let's look at why and how the F45 and F46 were developed. BMW saw that it was losing customers as they started having children, or, as they entered their retirement decades. To flag up its thinking for a public reaction, the Concept Activity Tourer was revealed at the Paris motor show in September 2012. That vehicle was 4,350mm long, 1,834mm wide and 1,560mm high, with a wheelbase of 2,670mm.
The company had a rethink, and so a second preview, the Concept Active Tourer Outdoor, was revealed at the exhibition 'OutDoor 2013' in Friedrichshafen during July 2013. In 2014 (March, at the Geneva show, to be precise) came the production model, which is 4,342mm long, 1,800mm wide and 1,555mm high.
While the F45 Active Tourer is only 20mm longer than a 1 Series or an X1, because its occupants are 30mm higher off the ground than in the latter and 110mm further from the ground than in the former, there is significantly more room. Think of the 2 Series Active Tourer as a rival for the Mercedes-Benz B-Class.
The AT arrived in LHD European market dealerships in August 2014, with cars for the UK and Ireland following one month later. Cars for China followed in December 2014, as did xDrive (all-wheel drive) variants for certain countries. BMW looked long and hard at the idea of US sales but decided against offering the Active Tourer and Gran Tourer there.
Both F45 and F46 use BMW Group's UKL1 architecture, which also has all-wheel drive capability. So as to provide much needed better interior space, the next X1 will switch from a RWD/AWD platform to UKL1.
Production of the Active T & Gran T takes place at Leipzig, and in 2016, BMW and Brilliance will add production of the Active Tourer at their Tiexi plant in Shenyang. Engines will also be manufactured at this production complex in China's northeast, and that means 2.0-litre four-cylinder and 1.5-litre three-cylinder petrol units. Incidentally, this will be the first time that BMW will have an engine casting complex in a country other than Germany.
Engines and transmissions are shared by the 2 Series AT and GT, which means the model variants are as follows: 214d, 216d, 218d, 220d, 220d xDrive, 218i & 220i. The Active Tourer, however, is also available in one other range topping form: a 225i which can also be ordered with all-wheel drive. The three-cylinder cars can be optionally equipped with a six-speed automatic gearbox, while four-cylinder variants have a different self-shifting transmission with eight ratios.
The BMW 2 Series Gran Tourer is on sale now, priced from GBP24,710-32,540. Despite the model name, neither the standard nor long-wheelbase versions of these people movers has much in common with the 2 Series Coupé (F22) and Convertible (F23). These replaced the 1 Series Coupé and Convertible. Despite using a RWD/AWD platform, F22 and F23 are built in the same plant as F45 and F46.
What's ahead for BMW Group's FWD/AWD platform
The next new model for UKL1 will be the BMW X1, set to have its international premiere in mid-September at the Frankfurt IAA. Unlike the F45 and F46 2 Series models, it will be manufactured in Regensburg, not Leipzig. The big change in regards to engines will be the lack of an in-line six-cylinder unit. Instead, the F48 X1 will have various three- and four-cylinder petrol and diesel engines.
Despite F47 as its codename, the X2 will be launched after the X1. This model will be a sportier, lower volume and obviously higher priced SUV in the same way that the X6 relates to the X5. There should be both three- and five-door bodies.
BMW is expected add an eDrive version of F45 in 2016. In fact, the first concept which previewed what became the Active Tourer was not just a front-wheel drive vehicle but rather an all-wheel drive plug-in hybrid. The Concept Active Tourer used the combination of a 1.5-litre turbocharged three-cylinder petrol motor to drive the front wheels, and an electric motor for the rear axle. This same powertrain should be fitted to the forthcoming 220e Active Tourer.
UKL1 is the basis for all future Minis, and F54 is the new Clubman, which has its public debut alongside the X1 at Frankfurt. It will be followed by a new convertible (F57) and then one model to replace the Countryman and slow-selling Paceman. This will be more or less the BMW X1 with a different (five-door) body. It will be manufactured in-house, not outsourced to Magna Steyr as is the case with the current R61 Countryman and R60 Paceman.
Not much happens with UKL1 in 2017, but a year later, it will be time for the arrival of the next generation BMW 1 Series, which goes FWD/AWD. Expect three-, four- and five-door variants.
Mini should gain a niche model in 2018: F57, a roadster inspired by the Superleggera concept. BMW Group will have to charge high prices for this car to make the business case: this won't be a Mazda MX-5 rival. It might well turn out that BMW Group collaborates with Toyota, just as it is doing for the follow-up to the slow selling Z4. The same may well end up applying to the potential 'Mini Minor', an A segment hatchback in the style of the Rocketman concept. This is pencilled in for 2019. Would this Fiat/Abarth 500 challenger use UKL1? Or might a TMC architecture be less costly for both OEMs? That's what BMW Group is said to be presently trying to ascertain.
The odd situation whereby BMW sells FWD/AWD and RWD/AWD models all called 2 Series is likely to be redressed in 2021 and 2022. That's when the replacements for today's 2 Series Coupe and Convertible are set to appear. They should amongst the first Group vehicles to be based on an evolution of UKL1.
The facelifted and now Euro 6-compliant Mazda6 saloon is the subject of Glenn Brooks' next Vehicle Analysis. The successor model due in 2017, plus other future Mazdas, will be looked at in the same piece.