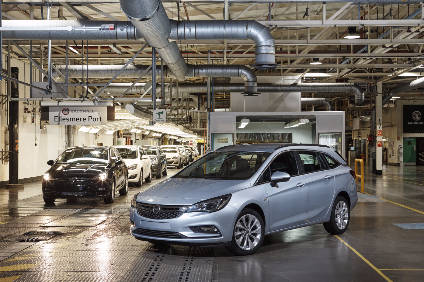 Recent remarks from PSA chief Carlos Tavares suggest that the Vauxhall Ellesmere Port plant faces a big efficiency challenge to become as competitive as other manufacturing plants with the PSA Group. Moreover, uncertainty over its long-term future within PSA is also underlined by the absence of any confirmation of a new model for the plant when the current Astra finishes around 2021.
In remarks reported by Reuters in Detroit last week, Tavares said that Ellesmere Port – which only makes the Astra model – is operating at efficiency levels similar to where PSA stood four years ago and prior to its turnaround. He reportedly added that the plant needs to come down to cost levels that are the same as those elsewhere in Europe and voiced concern that Brexit-related tariffs would increase cost pressures in the UK. A potential additional difficulty for the Ellesmere Port plant is a very low level of UK-sourced content, with EU-UK cross-border shipments of finished cars and imports of major components from Opel plants in Germany both very high.
Vauxhall has already cut jobs and a shift at the plant in order to increase its efficiency. In part, the plant is also disadvantaged by a faster than expected shift in demand in Europe which has left its Astra compact car less attractive in a market that has swung towards SUVs. Against stiff competition from other Opel plants, Ellesmere Port became the lead manufacturing plant for the current model, but PSA has yet to decide on a future model for the Ellesmere Port plant.
The UK-only Vauxhall brand slipped to number three from number two spot in the UK market last year, but UK sales remain very important in a European context.
The Unite labour union is campaigning hard for Ellesmere Port to be given additional investment and to have a new model confirmed. Len McCluskey, general secretary of Unite, met with Carlos Tavares in Paris today.
Vauxhall said in a statement that the meeting was "an opportunity to establish a frank and constructive dialogue in order to study how to regain the competitiveness of the Vauxhall manufacturing sites in the United Kingdom, in terms of cost/quality performance, in the context of an unstable economic environment".
Carlos Tavares proposed to "implement the principle of co-construction with the UNITE union, in order to define a roadmap to rebuild the industrial performance of the Vauxhall factories in the United Kingdom, in a reasonable manner".
Further meetings are planned to "quickly move this recovery plan for Vauxhall's manufacturing sites to the highest level of performance, after years of degradation and in line with the PACE! recovery plan".
However, there was no mention of a new model for the plant.
In a comment piece written for the Liverpool Echo McCluskey said he did not think the latest job cuts spelled the end for the plant. But he also said the plant needed to given a new model to build to make sure its future is safe. In the piece McCluskey warned that 'if our plant is betrayed, then the company's share of the UK market will be hit. Unite will make sure of that. We will not see promises broken and a loyal workforce let down."