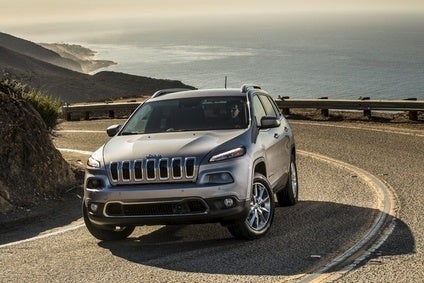 Winter maintained its grip on the US in February and, as happened in January, car buyers stayed home.
Manufacturers reported February sales totaling 1,192,467 light vehicles, 357 fewer than last year. That translates into a 0.03% loss.
The seasonally adjusted annualised sales rate (SAAR) matched the 15.34m recorded last February. It was a step up from January 2014's 15.24m but it was in line with analysts' estimates.
Chrysler Group was the only Detroit automaker to beat its year-ago numbers. Sales rose 11.4% driven by the new Jeep Cherokee, the Grand Cherokee and the Ram pickup. Dodge was the only Chrysler division to miss its mark: a 22% drop in car sales, led by a 36.7% plunge in sales of the Dart, was the culprit.
Ford took the biggest hit of the Detroit Three as a 7.2% drop in Ford brand vehicles wiped out a very respectable 36.4% jump in Lincoln sales. The MKZ sedan was the hero, but a lot of the increase can be attributed to last year's supply constraints. While cars were Lincoln's strength, they were Ford's Achilles' heel: most models posted double-digit drops.
General Motors' sales were slightly off their 2013 totals as every brand but Buick came up short by small margins. Big improvements in deliveries of the Encore and Regal kept Buick in the black. GM is still having trouble moving their new pickups: year to date (YTD) sales of the Chevy Silverado are now down 15.0% and GMC's Sierra is 6% behind the first two months of 2013.
Both Toyota and Honda missed their numbers: Honda sales fell 7.0% and Toyota's dropped 4.3%. Both are now in the red for the year. They were joined by Mazda and Mistubishi. Of the group, only Mitsubishi is still ahead of the game in YTD numbers.
Nissan brand set a new February record with sales up 16.7%, the largest gain among the major players and second only to Subaru's record-breaking 24.0% among all automakers. The Altima became the best-selling passenger car for the month. Nissan bumped Honda down to sixth in the manufacturer standings for the month and now holds a nice lead in YTD sales.
Hyundai took a 6.3% hit that company officials blamed on the weather while Kia sales were off by 0.7%. So far this year, the Koreans are 1.5% in the hole.
Audi set another sales record by the skin of its teeth, finishing the month exactly four sales ahead of February 2013. Mercedes-Benz continued its reign at the top of the premium segment with another monthly sales record and Porsche joined the party with its best-ever February sales.
BMW brand sales were up 3.3% but that gain was wiped out as Mini sales cratered to the tune of 42.8%. Deliveries of the core Cooper Hardtop fell 77.6% as the brand transitions to a refreshed model coming to market in the second quarter of this year.
Pickup truck deliveries, which have been seen as a bellweather of an improving economy, were up 1.8% and accounted for 12.2% of total light vehicle sales. That's up slightly from last February's 11.9% share.
Premium brands also picked up market share, growing from 10.3% of sales to 10.8%. Only Cadillac and Volvo fell short in February. Jaguar was second only to Lincoln in sales growth with a 35.2% gain.
Since March has come in like a lion, we can hope it goes out like a lamb with balmy spring weather: perfect for a visit to a car dealer's lot.