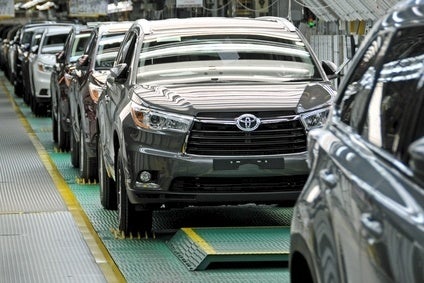 Toyota is trying to maximise use of its factories in the US without building any more new plants, a senior executive said on the sidelines of an auto industry conference in Michigan this week.
"I have been encouraging my [staff] to further improve our productivity and quality at the shop floor so that we can fully utilise existing machine capacity and we can increase our output from an existing plant. That is our first priority," Toyota Motor Engineering and Manufacturing North America president Simon Nagata told WardsAuto on the sidelines of the Management Briefing Seminars in Traverse City.
Nagata appeared to rule out 'brick and mortar' expansion at Toyota's 'original' US plant in Kentucky even when Camry production currently contracted out to Subaru's plant in Indiana is brought in-house.
"I don't think so," Nagata said when asked if Georgetown expansion would be necessary. The plant, which already makes most North American Camrys, should be able to absorb the Subaru of Indiana Automotive volume.
Clearly, top Toyota manufacturing executives are all on the same page. Last May, executive vice-president Nobuyori Kodaira said the automaker would not build any new factories for at least two more years and was heeding lessons learned during the global financial crisis, which began in 2007, when it struggled for several years with overcapacity before demand recovered.
Instead, the company was asking workers for creative solutions to lifting output at existing facilities.
"Building a new plant is a rather simple solution because people with money can do it," Kodaira said. "But not building new plants can stimulate wisdom and new thoughts."
Last January, Toyota started work on a new 50,000-unit assembly line at Georgetown to 'localise' production – from autumn 2015 – of the Lexus ES350 sedan which has never been assembled outside Japan. The ES is Lexus' bestselling sedan, with 72,581 units sold in the US in 2013, up nearly 30% from 2012. Full ES line sales were off 0.2% year on year to 39,496 units for the seven months to the end of July 2014, according to just-auto.com data.
Localising the luxury sedan will generate 750 new jobs at the plant where Toyota is spending US$360m on its largest and longest running manufacturing operation in North America.
Toyota may have learned a lesson from the debacle surrounding its Blue Springs, Mississippi plant, now building the Corolla but, in February 2007, originally planned to make the Highlander [Kluger] in the US. Ground was broken in April 2007 with production expected to start in 2010. Just two months after work started on Toyota's eighth US plant, reports from Japan suggested it would be the last for some time.
In the midst of the credit crunch, Toyota announced in May 2008 it would delay the start of production at Blue Springs by six to nine months, citing falling vehicle sales and the economic slow-down. In July, it suddenly changed tack, saying that the fuel-sipping Prius would be built there instead of the Highlander with the latter instead being made at another plant in Indiana. The following November, Toyota denied Japanese media reports of another start of production delay in Mississippi – to 2011 from mid-2010. In December 2008 the bullet finally was bitten – Toyota said it was delaying indefinitely US Prius production and would finish constructing the 90% complete factory building but delay installing the equipment.
Meanwhile, Highlander production began in Indiana in 2009 and has since expanded, following a full redesign, to include exports to Russia, Ukraine and Kazakhstan plus right hand drive models for Australia and New Zealand, all replacing Japanese output. And Toyota was still insisting, early in 2010, Blue Springs would, eventually, make the Prius. Eventually, after the closure of the NUMMI joint venture with GM in California, Toyota revived and revised its Mississppi plans, now to build the Corolla. Production finally started in November 2011, a second shift was added in February 2012 and exports began last April. As for the Prius,there would be no US build until at least the next generation in 2016.
Nagata told WardsAuto.com more Camry imports from Japan were unlikely, because the automaker wants to maintain its current import/North American-production mix – 223 imported Camrys were sold in the US last year versus 9,867 in 2009. Subaru Indiana, which last year built 97,003, will stop contract production in autumn 2016.
WardsAuto said Georgetown was the highest volume passenger vehicle plant in the US last year, assembling 504,213 vehicles of which 348,970 were Camrys, and likely would need to make room for another 100,000 units after Indiana build stops.
"There are several unknown factors, especially the sales volume of the three models at the time SIA will stop producing Camry (at) the end of 2016," Nagata said.
Camry volume is unlikely to decline. According to just-auto data, 2013 sales were up 0.9% to 408,484 last year – top selling passenger car in the US – and, to the end of July 2014, up 8.3% to 262,428.
But WardsAuto reckons declining Avalon sales and the expected axing of the slow selling Venza crossover would free up 50,000-60,000 units of capacity in Kentucky for the Camry.