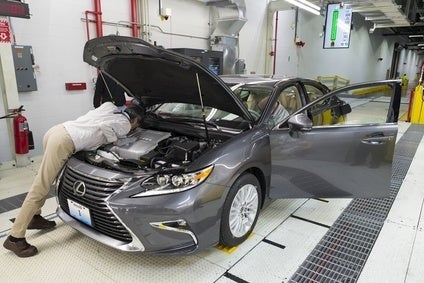 Toyota's factory in Georgetown, Kentucky, has built its first ES350. It's the first time the model has been made outside Japan.
It took two and a half years to prepare the plant – Toyota's largest and oldest in North America – for the best-selling Lexus sedan in the US and US$360m was spent on a dedicated assembly line, adding 750 new jobs. Line capacity is 50,000 vehicles.
"Localising Lexus production is in line with our North American production strategy and is rooted in our philosophy of building cars where we sell them," said Toyota North America CEO Jim Lentz.
Adding Lexus takes Kentucky capacity to 550,000 vehicles a year and employment to 7,500 people. Some workers were trained in Japan for the new line.
Plant president Wil James said: "Before we were chosen to build the ES, we put a plan in place to show we were capable of building Lexus before Lexus would consider coming here. That strengthened us across our plant, and as a result, we're building better cars overall."