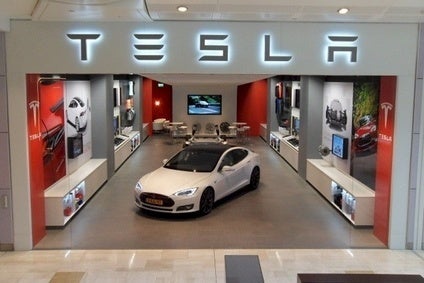 Tesla booked second quarter net income of US$16m and $0.11 per share on a non-GAAP accounting basis but a loss of $62m and $0.50 per share on a GAAP basis, the automaker said in a letter to shareholders.
No revenue figure was provided.
The company said it produced a record 8,763 Model S vehicles and delivered 7,579.
A new Model S/Model X assembly line is planned to begin operation next week and Tesla is "on track for more than 35,000 deliveries in 2014", the letter said.
Karl Brauer, senior analyst for Kelley Blue Book, said: "Panasonic's increase in battery production has enabled an impressive ramp-up in Tesla 's assembly rate over last few months. The resulting increase in sales and revenue has the automaker's numbers moving in the right direction, though it continues to lose money. By building its own battery facility, Tesla can take full control of its battery supply and eliminate that restraint, a shift that could mesh effectively with increased global distribution and demand from China. But long-term sustainability and profitability will require a high-volume, affordable model with widespread appeal. That remains the big challenge Tesla must overcome in the next few years."
Fellow KBB analysts Akshay Anand added: "While Tesla also stated capacity will increase for the Model S in its Fremont plant, the Model S will never be a 'volume'model due to its price point. If the Model X turns out to be at a higher price point, which seems likely at this time, then sights are squarely set on the Model III expected to launch in a few years. If the Model III has solid performance and range that matters to consumers, expect it to sell like hotcakes. If performance or range underwhelm, Tesla may have a big issue on its hands. In the meantime, revenues for Tesla continue on an upwards trajectory, and while expenses are still high, it's clear the company will continue to be in the media for myriads of reasons."