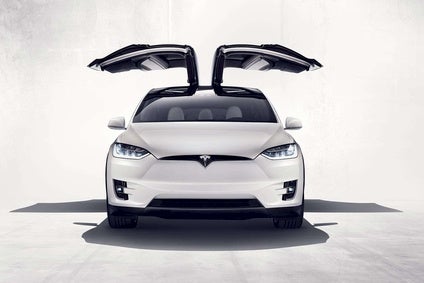 Tesla has started deliveries of its delayed Model X crossover in the US. The new model, which comes with striking 'falcon wing' lifting rear doors, was launched to a handful of customers at a ceremony at Tesla's Freemont, California, facility.
Investors will be hoping that the higher volume Model X is successful enough to tip Tesla into profitability after years of losses and high development costs.
It's been a long wait for the Model X, the first prototypes having been shown to the media in February 2012. The car has been subject to a number of delays having originally been slated for SOP in 2014.
The Model X is effectively a taller version of the Model S sedan, but with folding back doors hinged on the roof. Tesla calls these 'falcon doors'.
The car comes with a $130,000 price tag. Tesla's next model – 'Model 3' – will be higher volume and sell with a lower price point of around $35,000.
Tesla claims a range of 250 miles for the car on the fully charged 90 kW battery.