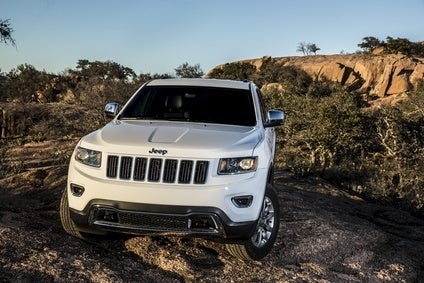 July US light vehicle sales were hot, rising 9.2% to almost 1.44m units, producing a seasonally adjusted annual rate (SAAR) of 16.48m. That's a 720,000-unit improvement over last July and marks the fifth consecutive month the SAAR has been above 16m. However, that's a bit below the 16.7m predicted by industry analysts.
Chrysler Group celebrated the approval of its merger with Fiat by posting the largest improvement of the Detroit automakers, though it missed industry-watcher expectations. It easily beat its numbers from last year, thanks to growing sales of the new Chrysler 200 saloon, the resurgence of the compact Dodge Dart and the continuing popularity of Jeep, which is now the best-selling Chrysler brand.
Ford was the only Detroit automaker to beat the analysts' forecast thanks to strong crossover/SUV sales and a nice boost from Lincoln . The Transit van made its American debut and will be one to watch as it is a major play in the US commercial van market, replacing the long-time leader, the Ford E-Series.
Even with the growth, Ford fell to No. 3 in the rankings as Toyota delivered more vehicles in July. Ford still has a 95,415-unit cushion in year-to-date (YTD) sales.
General Motors also came up short of the forecasts, though deliveries rose by a healthy 9.4%. As was the case with Chrysler and Ford, the key was brisk sales of light, and not-so-light, utilities. Sales of the big Tahoe and Yukon SUV climbed 50%.
With their combined 12% gain, the Detroit automakers added nearly a point of market share in July, a boost that came from the Japanese, Korean and European brands.
Nissan North America set a new July sales record as sales advanced 11.4%. Big jumps in cars sales, most notably the Versa and Sentra , were the key to Nissan's improvement.
Toyota sales grew nicely, beating Ford's volume by about 4,300 units. Lexus was the top-selling luxury brand for the month, a position it hasn't seen in a while.
Honda missed its July 2013 numbers as Acura sales slumped, compounding the Civic 's deficit. Honda brand light truck sales were also off.
The smaller Japanese car companies showed solid growth with Subaru setting a new sales record in July.
Hyundai and KIA both set new July benchmarks with KIA enjoying the largest increase.
Audi and Mercedes-Benz also set new July records. Audi couldn't keep up with Cadillac this month and fell to fifth in the premium rankings while Mercedes dropped to second, behind Lexus . BMW still has the lead in YTD sales.
While the results look good, they are coming at a high price. Cash on the hood is fueling the market. In Fiat 's recently released second-quarter earnings report, incentives were one of the factors blamed for Chrysler 's poor numbers. Estimated average incentive spending rose 7.1% in July to a level not seen since 2010 with the largest spending increases coming from an unexpected source: Hyundai and KIA .
Subprime lending has also been a point of concern but reports from the leading credit agencies indicate that delinquencies and defaults are currently running at very low percentages.
On the plus side, there are a number of new vehicles just ramping up, including the new aluminum Ford F-series and aforementioned Transit van, along with the Chrysler 200, which is just now hitting full market penetration.
The product debuts and manufacturers' willingness to spend look suggest we'll finally see US light vehicle sales passing the 16m mark this year.
Current month

Market Share

Calendar YTD

Manufacturer

July '14

July '13

Volume Change

Daily Sales Rate Change

July '14

July '13

2014

2013

Volume Change

Chrysler Group

167667

140102

19.7%

15.1%

11.7%

10.7%

1187790

1048434

13.3%

Ford Motor Co.

211467

193080

9.5%

5.3%

14.7%

14.7%

1476824

1482816

-0.4%

General Motors Co.

256160

234071

9.4%

5.2%

17.8%

17.8%

1712028

1654417

3.5%

Detroit Total

635294

567253

12%

7.7%

44.2%

43.1%

4376642

4185667

4.6%

American Honda

135908

141439

-3.9%

-7.6%

9.5%

10.8%

875344

887017

-1.3%

29238

24977

17.1%

12.6%

2%

1.9%

185669

169920

9.3%

Mitsubishi

6349

5230

21.4%

16.7%

0.4%

0.4%

46021

35699

28.9%

121452

109041

11.4%

7.1%

8.5%

8.3%

825929

733750

12.6%

Subaru *

45714

35994

27%

22.1%

3.2%

2.7%

283722

240591

17.9%

American Suzuki

0

0

N/A

N/A

0%

0%

0

5946

-100%

Toyota Motor Sales

215802

193394

11.6%

7.3%

15%

14.7%

1381409

1302185

6.1%

Japan Total

554463

510075

8.7%

4.5%

38.6%

38.8%

3598094

3375108

6.6%

Hyundai *

67011

66005

1.5%

-2.4%

4.7%

5%

431445

427015

1%

KIA *

52309

49004

6.7%

2.6%

3.6%

3.7%

349722

326355

7.2%

Korea Total

119320

115009

3.7%

-0.2%

8.3%

8.7%

781167

753370

3.7%

BMW North America

32220

29993

7.4%

3.3%

2.2%

2.3%

213754

202780

5.4%

Daimler AG*

30757

26423

16.4%

11.9%

2.1%

2%

198511

182315

8.9%

Jaguar Land Rover

5830

5663

2.9%

-1%

0.4%

0.4%

40333

36445

10.7%

1132

267

324%

307.7%

0.1%

0%

6574

1536

328%

Volkswagen Group**

49670

52856

-6%

-9.6%

3.5%

4%

337390

356408

-5.3%

Volvo Cars North America

4894

5909

-17.2%

-20.4%

0.3%

0.4%

34224

38487

-11.1%

Other (est.)

3225

1818

77.4%

70.6%

0.2%

0.1%

18005

16176

11.3%

Europe Total

127728

122929

3.9%

-0.1%

8.9%

9.3%

848791

834147

1.8%

Total Light Vehicles

1436805

1315266

9.2%

5%

100%

100%

9604694

9148292

5%
* indicates a sales record. **Volkswagen Group figures include Audi , Bentley , Porsche and Volkswagen brands
Other includes estimated sales for Aston-Martin, Ferrari , Lamborghini, Lotus, Maybach , Rolls-Royce and Tesla
Source: Manufacturer's reported sales