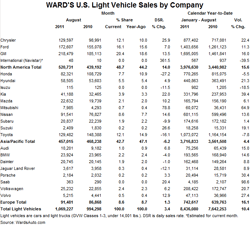 August was a tough month: the economy, consumer sentiment and a hurricane on the last selling weekend kept a lid on sales that otherwise looked fairly good.
Wards reported light vehicle sales totaled just less than 1.07m units, yielding a seasonally adjusted annualised rate (SAAR) of 12.12m, ahead of August 2010's 11.54m but a 110,000-unit drop from July 2011. This was in line with analysts' estimates and marks the fourth consecutive month under 12.5m.
For the month, the Detroit automakers dominated, taking the top three spots. Chrysler narrowly edged past Toyota with a 115-unit margin.
Chrysler led the major automakers with a 25.9% improvement. Strong Jeep sales and a banner month for the Chrysler 200 kept all divisions in the black. Chrysler's market share increased by more than two points, to 12.1% in August.
General Motors reported sales were up 13.5% with a better mix of retail to fleet sales. GM said it was satisfied with current inventory levels, in spite of a large supply of light trucks. The Chevrolet Cruze remained the best-selling American-badged car and the Sonic, the replacement for the Aveo, made its debut.
American police aren't rushing to GM Holden's Australian-built Chevrolet Caprice PPV; just a handful have been delivered since it went on the market. Instead, fleet buyers are stocking up on Ford Crown Victorias before production ends. 2011 sales of the police-only Crown Vic were 70.4% ahead of last year.
Ford sales increased 7.0% as both brands beat their August 2010 numbers. Lincoln's car sales overcame weakness in its light truck line and Ford's premium brand is now in the black for the year.
The Asia-Pacific automakers saw their market share shrink by 4.4 points due mostly to supply-strapped Toyota and Honda.
Honda gave up 3.2 points of share in August. The company's problems are compounded by a 49% plunge in sales of the new Civic which has not been well received.
Subaru, which once regularly posted new sales records, saw its fourth consecutive month of red ink.
Nissan sales were up 14.6% and could have been better had it not been for Hurricane Irene. Nissan gets a lot of its sales from the northeastern US which was hit hard by flooding.
Mazda and Mitsubishi both posted good numbers: Mitsubishi sales soared 78.8% in August. Suzuki sales also improved, up 26.6%.
KIA reported its 12th consecutive monthly sales record while Hyundai posted a 4.9% gain. New models are making the difference for both brands.
Jaguar sales pulled Jaguar Land Rover NA results down. Land Rover sales rose 10.3% but couldn't overcome Jag's 42.7% deficit.
Volkswagen's numbers improved 6.2%. Sales of the new Jetta are up 59.8% this year. Audi came through with another monthly sales record.
Bmw brand's 2.4% improvement was wiped out by a 32.4% fall in MINI sales. BMW retains a solid lead in premium segment sales, comfortably ahead of Mercedes-Benz. Daimler also fell slightly, down 1.0%.
Some optimists still predict 13-plus million sales in 2011. However, the majority of industry watchers are paring their forecasts to a more probable 12 to 12.5m and, without a significant improvement in the US economy, some don't even see a 13m-sale year in 2012.