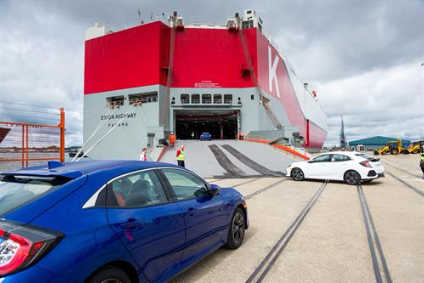 Honda says that the first mass-production tenth generation Civics made in Swindon, UK, have now set sail for the US. The cars are due to arrive in dealers across North America by September.
Last year Honda said that Honda of the UK manufacturing (HUM) is to become the global production hub for the tenth-generation Civic hatchback. It received an investment of over GBP200m to prepare for the start of production of the new model.
Civic is Honda's biggest selling nameplate worldwide and Honda says the tenth generation is 'one of the most comprehensive new model developments ever undertaken by the brand'. The four-door sedan version was launched in US in late 2015, and received the North American Car of the Year award.
Philip Webb, head of cars at Honda UK, said: "Production of the hatchback for the UK market will commence towards the end of 2016, with sales beginning in the first quarter of 2017. Our factory in Swindon will also export the model to other key markets around Europe and the rest of the world."
Honda of the UK Manufacturing (HUM) is Honda's flagship production facility in Europe and a key part of Honda's global manufacturing network. Since 1989, Honda's total investment in HUM has exceeded GBP2.2bn.
Honda has struggled in Europe over the past five years and a low level of capacity utilisation at its Swindon plant has been a source of frustration. Giving the plant a more global role has been the response.