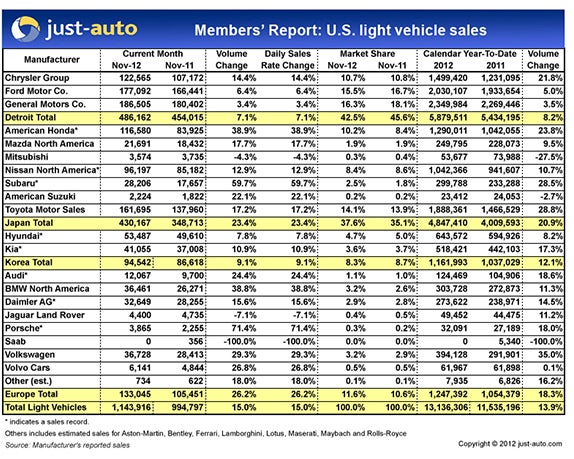 As residents in the storm-battered north eastern US begin rebuilding and repairing, one of the crucial needs has been to replace personal vehicles and dealer inventory. The process is just beginning, but the results were impressive.
The November SAAR came in at 15.54m sales, the highest since January 2008. Sales volume was better than 1.14m, 15% ahead of November 2011.
Advancers outnumbered decliners: only Mitsubishi and Jaguar Land Rover missed their marks. Eight brands set new monthly sales records, including Porsche, which posted its best monthly tally since it set up shop in America. Mazda had its best November since 1994 and Volkswagen had to go all the way back to 1973 to find a better November.
Porsche's 71.4% jump led the way but Subaru, Honda and Bmw North America weren't far behind.
All three Detroit automakers were in the black: Chrysler reported the largest gain, up 14.4%, while Ford and General Motors sales were up 6.4% and 3.4% respectively. Fiat sales continue to grow and the addition of the California-only 500e electric, the Abarth cabriolet and the Panda-based 500L should keep the brand healthy in 2013.
Ford claimed its best small car sales in 12 years based on sales of the new to the US C-MAX and a 56% leap in sales of the Focus. The Fiesta, however, showed only a small gain and is deep in the red in year-to-date sales.
Despite their increased sales, the Detroit Three lost 3.1 points of market share, most of which was gobbled up by Honda.
The secret to Honda's success was an 82.8% jump in sales of the Accord, almost matched by a 75.5% gain for the Civic. These two lines accounted for 76.1% of American Honda's overall 38.9% November explosion.
Subaru returned to the record-setting business with a 59.7% improvement as the Outback, Legacy and Impreza set their own monthly records. The BRZ isn't making quite the splash of its Scion clone, the FR-S, but the XV Crosstrek seems to be getting off to a decent start.
Suzuki, which is leaving the US market, saw a 22.1% improvement while Mitsubishi, which has vowed to remain, saw sales fall again, this time down 4.3%.
Hyundai and KIA both celebrated new records: Kia's unbroken string now stretches 27 months.
Daimler posted a new November sales record though Mercedes sales weren't quite enough to beat BMW which posted a 38.8% gain. Mercedes still has a small lead in the US luxury segment and it's possible we may see a rerun of last year's game of 'chicken' to see who takes the crown for the year.
Barring events like the earth ending on 21 December, it's looking like 14.3m sales for 2012 is just about a done deal and 14.5m is looking very likely. Sales to replace damaged vehicles should augment December's normally fairly strong volumes and it will take only a 10% improvement over December 2011's mark to hit the 14.5m mark with room to spare.