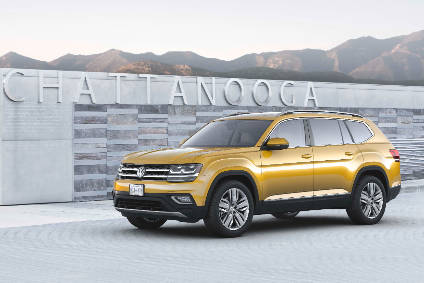 Multiple component related recalls are covered by the latest US NHTSB bulletin including 222,892 Atlas models built and sold by Volkswagen Group of America.
The automaker is recalling 2019-2020 Atlas, 2020-2023 Atlas Cross Sport and 2021-2023 Atlas FL vehicles because the door wiring harness electrical contacts may corrode, disrupting the electrical connection and delaying the deployment of the driver or passenger front side air bag during a side impact crash.
VW said "the remedy is currently under development". Interim notification letters informing owners of the safety risk are expected to be mailed from 10 May, 2022. A second notice would be sent once a repair becomes available.
The wiring issue could also cause other problems in the cars, including the vehicle's windows rolling down on their own and its electronic parking brake inadvertently engaging at low speeds, cnbc.com reported.
Meanwhile, Ford is recalling 78,376 2021-2022 Edge vehicles because a software error may cause the rear view camera to display a blank or distorted image when the vehicle is in reverse. The software will be updated by a dealer, or through an over-the-air (OTA) update, free of charge.
The automaker is also calling back 157,306 2021 F-150 trucks because the windscreen wiper motor may become inoperative, causing the wipers to fail. Dealers will replace the electric motor.
VW is also recalling 45,789 2021 Audi RS6 Avant, RS7, 2020-2021 A6 Allroad, S6 Sedan, S7, 2019-2021 A6 Sedan, and A7 models because the fuel level sender may stick, causing an inaccurate fuel level reading to be displayed on the instrument cluster. Dealers will install a new sensor in the tank.
Finally, Kia Motors America is calling back 30,362 2014-2016 Cadenza models because, during manufacturing, the windscreen may not have been properly bonded to the vehicle, allowing it to detach. Dealers will inspect the screen and, if necessary, remove and reinstall it.