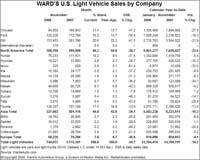 Optimistic suggestions US light vehicle sales might have bottomed out after October's 34.5% plunge were dispelled last night after November's data came in – a 36.7% dip to just 744,037 units versus 1,175,381 a year ago.
According to WardsAuto.com, which adjusts for selling days, both car and light truck sales were also off 36.7% to 360,032 and 384,000 units respectively. Domestic brand car sales fell 39.9% to 235,762; imports were off 29.5% to 124,270.
It was pretty much even with trucks – domestics down 36.9% to 313,263 and imports off 35.8% to 70,742.
Year to date, domestic cars were down 11.4% and imports 2% with the combined total off 8.5% to 6,391,413 in November.
Domestic trucks fell 24.1% YTD to 4,901,883 while the imports were down 20% to 1,011,118.
In total vehicles, Detroit was off 18.7% to 9,168,803 and imports down 8.6% to 3,135,611.
Total industry light vehicle volume was 16.3% down to 12,304,414 units at the end of November versus 14,704,791 same time last year.
Chrysler fared worst in Detroit with November sales down 47.2% to 84,850, GM was off 30.4% to 153,453 and Ford down 30.4% to 120,236. Year to date, the Big Three were down 27.9%, 21.9% and 19.3% respectively.
"The economy continues to weaken and auto sales reflect this reality," said Ford's marketing chief Jim Farley. The automaker now plans to produce 430,000 vehicles in the first quarter of 2009 compared with 692,000 in Q1 2008. Fourth quarter 2008 production plan is unchanged from the previously announced 430,000 vehicles.
"We believe the economy will continue to weaken in 2009," said Farley. "Our near-term production plan reflects this view."
Toyota sales were down 33.9% to 130,307 units, Nissan sales fell 42.3% to 46,608, Honda was down 31.6% to 76,233, Hyundai was off 39.7% to 19,221 and affiliate Kia down 37.2% to 15,182.
Amongst the Europeans, Porsche plunged 48.2% to 1,378, Daimler was down 29.8% to 16,012 and BMW volume was down 26.8% to 19,762. Volkswagen sales were off 21.3% to 21,083 vehicles.
"This is the toughest economic environment we've seen in a long time and it presents a significant challenge" said VW of America COO Mark Barnes. "Nevertheless, our clean diesel TDI's continued to sell very well even in this tough economy and represented 17% of our monthly sales. We're also pleased that our all-new seven passenger minivan, Routan [built by Chrysler], has posted its best month ever with sales of 1,324 units," he added.
Trucks still top the US sales chart, though. Year to date, Ford's F-series – about to get a boost from the 2009 redesign – remained top with 473,933 followed by its arch-rival, the Chevy Silverado with 431,725. Top car was again Toyota's Camry (411,342), ahead of the Honda Accord (350,441), Toyota's Corolla/Matrix line (328,878) and the Honda Civic (321,987). The Chevrolet Impala, behind the Nissan Altima (252,537), was the top-selling US car model (244,692).