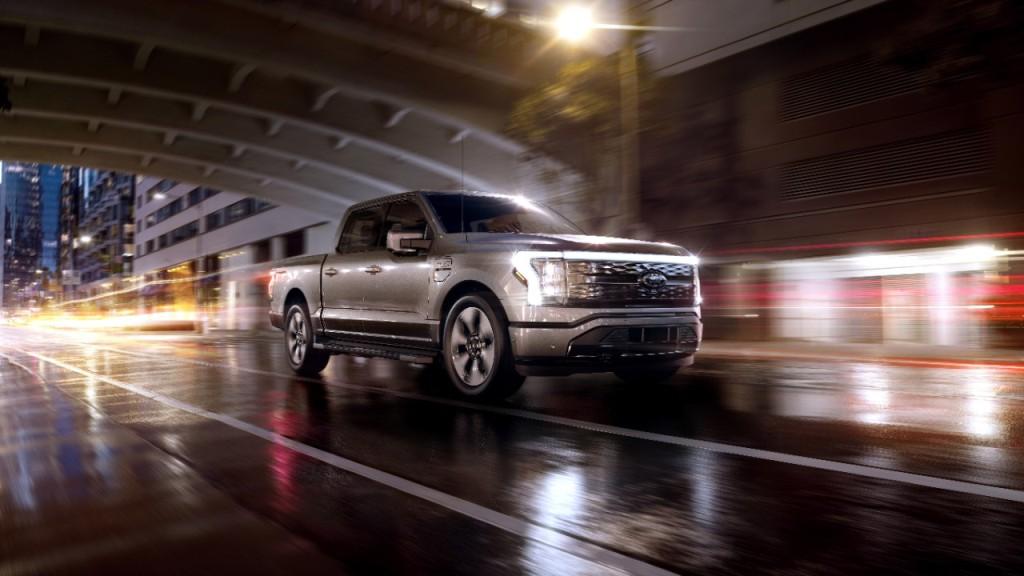 The US light vehicle market in July performed mostly in line with recent results, according to LMC Automotive, a leading automotive forecasting and market intelligence firm, now a GlobalData company.
Still curbed by lean inventories, July volumes totalled 1.13 million units, slightly weaker than expectations going into the month. Compared to July 2021, sales fell by 11.6% – only January's decline of 10.2% was better so far in 2022, though last July was also hampered by the chip shortage.
July sales of 1.13 million units were just 2,000 units below June volumes, while the selling rate improved slightly for the second consecutive month, to 13.3 million units.
However, LMC said the inventory crisis has forced the US to lose 1.65 million units of potential demand so far in 2022 – equivalent of total sales in Canada last year.
Toyota outsold General Motors for the first time since January, while the Toyota brand remained the market leader.
While the July market volume translates into an annualized rate of 13.3 million units, about 300,000 units higher than in the previous month, the daily selling rate edged down by about 100 units, to 43,400 units/selling day. Compared to last year, when July had one extra day, the average fell by 3,900 units/selling day.
Under the pressure of record high transaction prices, retail sales remained under 1 million units for the third consecutive month, but still increased their share of total sales. They are estimated to have accounted for 86% of total sales, 2 pp more than in June. In the yearly comparison, only fleet sales enjoyed positive results, as OEMs diverted inventory to retail sales in 2021 amid the worst of the inventory crisis.
Since 2000, this July was only better than the period of the Great Recession in 2008-2011. Year-to-date, sales stand at 7.91 million units, down by 17.3% YoY. This means that the market has shrunk by 1.65 million units – the equivalent of total sales in Canada in 2021.
Augusto Amorim, Senior Manager, Americas Vehicle Sales Forecasts, LMC Automotive, said: "GM lost more than 20,000 units, and it was outsold by Toyota for the first time since January. On the positive side, Ford, Mazda and Toyota gained the most volume from June. Toyota remained the bestselling brand, but its lead over Ford shrank considerably this month. Toyota was ahead of Ford by 2,400 units, down from the 8,000-unit lead in June. "When it comes to models, the F-150 and RAV4 continue to fight fiercely for the sales crown, and this month the F-150 was ahead by 600 units. As these Non-Premium makes recover, Premium's share was shy of 16% for the first time in three months."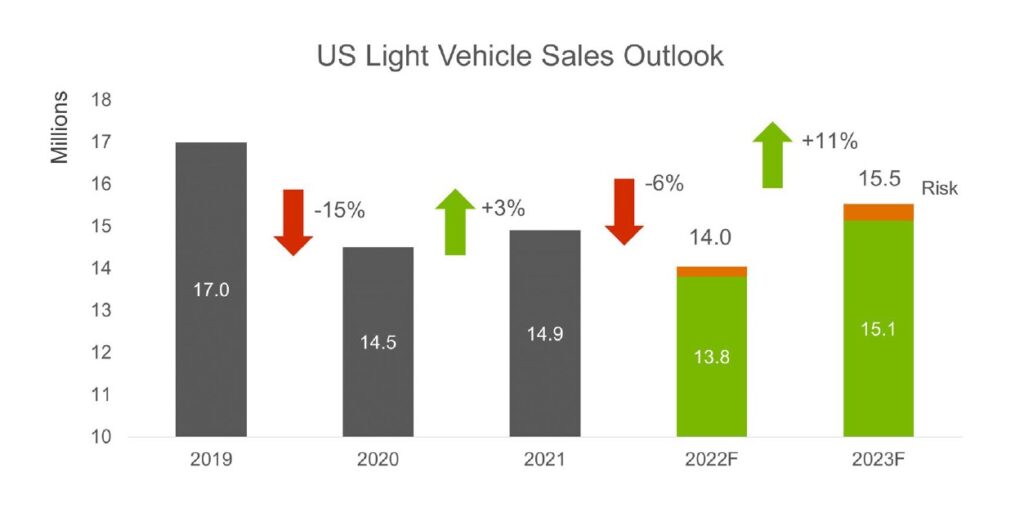 As a lift-off in vehicle volume in the second half of the year remains less likely and with the selling rate through July holding at 13.7 million units, the outlook for US Light Vehicle sales has been trimmed further and the 2022 forecast now stands at 14.0 million units, down from 14.3 million units last month.
The latest outlook represents a decline of nearly 6% from 2021 and reflects the intersection of continued supply constraints and demand that is expected to weaken as inflation and rising interest rates take hold. There remains downside risk to the forecast of 200,000 units as uncertainty is elevated through the end of the year and into 2023.
NA production dips
North American production through July was down by about 130,000 units from last month, consistent with the muted outlook for the remainder of the year. North American production disruption for 2022 is holding at 1.5 million units, showing no improvement from last month. The outlook for vehicle production overall is down by 250,000 units to 14.3 million units for 2022. Given the weaker near-term demand outlook and the additional risk associated with further disruption and a recession, the forecast for 2023 sales has been cut by 300,000 units to 15.5 million, an increase of 11% from 2022.
Jeff Schuster, President, Americas Operations and Global Vehicle Forecasts, LMC Automotive said: "The outlook for autos is clouded with continued uncertainty and dynamic risk factors. The constraint remains centred on the supply side of the market, though a slowdown in demand is likely already underway, but masked by the lack of inventory. We continue to expect a pullback in demand, but overall volume is not likely to result in lower levels, just lack of a pronounced recovery."