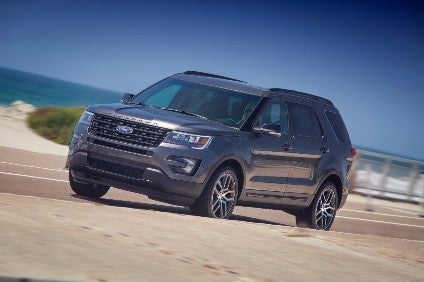 US light vehicle deliveries edged down again in February but, while the market is softening, the industry seems to be looking at a rather gentle landing.
Year over year sales fell 1.1% to about 1.33m units. For the year so far, the deficit was around 1.5%.
The seasonally adjusted annualised rate (SAAR) remains robust, coming in at 17.58m cars and light trucks. That's just 0.7% lower than February 2016.
While all this is encouraging from a volume angle, keeping sales going at a decent rate is proving costly. Estimated incentive spending rose 13.5% to an average of over US$3,400 per vehicle.
General Motors, the only Detroit car maker to beat its February 2016 sales tally, outspent all of the major companies, slapping an estimated average of $4,500 on every hood, with special emphasis on pickups. Ford, usually the most tight-fisted of the US automakers, boosted its incentives by nearly 24%, winding up less than $100 behind FCA, which is usually one of the biggest spenders.
Leasing activity remains strong as American buyers look to keep monthly payments low without long term financing.
Despite the drop in total sales, more companies finished February in the black than in the red. New sales records were set by Audi, Honda, Jaguar, Hyundai, Mercedes-Benz, Nissan and Subaru. Audi has now set records for 74 consecutive months, and Subaru is up to 63 months.
Unfortunately, three of the largest automakers, FCA, Ford and Toyota missed their marks: FCA falling by double digits as Jeep sales continue to dip and its other brands are weighed down by legacy models like the ageing Chrysler 200 and Dodge Dart.
In a bit of an upset, Ford brand SUVs outsold Jeep in February and Jeep's troubles seem to have gone international. According to January registration figures from ACEA, Jeep fell short in the EU, as well. There's a lot riding on the new Compass which will replace the original Compass and Patriot models this spring.
Ford nonetheless was hurt by slumping car sales and a drop in its fleet activity. The blue oval usually enjoys the highest percentage of fleet business of any of the Detroit automakers, with a strong presence in the commercial and government markets, which tend to be more profitable than daily rental fleet sales.
While Land Rover came up short, Jaguar continues to impress, posting a 130.4% increase in turnover driven by the new XE and the F-Pace. The F-Pace accounted for roughly half of Jaguar's February sales in the US.
SUVs were a double-edged sword last month. Sales in the segment grew by 8.6% to claim 42.1% of the market but shortages hurt, as Volvo discovered when it couldn't meet demand for the XC90.
Passenger cars gave up another 4.6% of market share, claiming just 36% of February sales as segment deliveries fell 12.2%. Sales of minivans and MPVs took an even larger plunge, dropping 21.3%.
There was some serious action in the pickup segment as 10.8% gain in the full-size segment drove total turnover up nearly 20,000 units. Sales of commercial vans were off 3.3% in February but total movement in business oriented vehicles is still encouraging.
March is usually one of the best sales months in the year for automakers so next month may provide a glimpse of the year ahead.
Members'Report: U.S. light vehicle sales
* indicates a sales record.
**Volkswagen Group figures include Audi, Bentley, Porsche and Volkswagen brands
Other includes estimated sales for Aston-Martin, Ferrari, Lamborghini, Lotus, Rolls-Royce and Tesla
Source: Manufacturer's reported sales