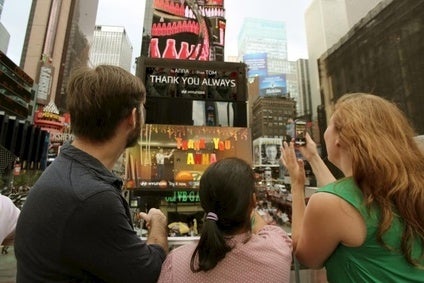 Hyundai Motor has launched a new interactive billboard campaign entitled 'Hyundai Brilliant Interactive Art'. It utilises a two-way interactive communication between consumers and corporate groups to target tourists and pedestrians around Times Square's billboards in Manhattan.
The company says the interactive billboard integrates the latest technology, and is the next step in Hyundai Motor Company's strategic brand direction 'Modern Premium,' that started with 'Hyundai Race' in 2011 and 'Hyundai Brilliant Image Show' in 2012.
'Hyundai Brilliant Interactive Art' attempts to communicate emotionally with visitors by showing many different looks of the virtual character 'Mr. Brilliant' who lives in the three-sided outdoor billboard.
As visitors pose for the high-tech facial recognition camera, 'Mr. Brilliant' finishes by embellishing the visitors' photo with various themes for all Times Square visitors to see.
Six backgrounds are available for visitors to choose from:
Tourist who travels Times Square
Artist who draws New York City
Image of the Statue of Liberty
Police officer protecting New York
Celebrity jogging across Manhattan Bridge
Race car driver with his favorite Hyundai
Also, 'Mr. Brilliant' presents memories by displaying visitor messages on the billboard sent via a smartphone mobile page connected through 'Mr. Brilliant' Wi-Fi.
"This interactive billboard campaign is intended to build brand awareness and reach a large audience by departing from the traditional brand marketing strategy," said a representative from Hyundai Motor Company. "We expect this new interactive billboard campaign will provide opportunities for visitors from around the world to experience the Hyundai Motor brand in a fun and memorable fashion."