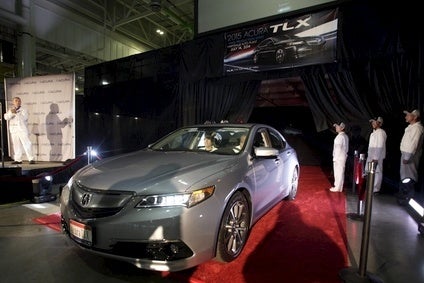 Honda has started Acura TLX production at its Marysville plant in Ohio ahead of first US sales in August. The model replaces the TL and TSX and now over 90% of Acura vehicles sold in America are produced there.
Designed, developed and engineered in Ohio and Los Angeles, and made exclusively in Ohio, the TLX is a luxury sedan available with two new powertrains, all wheel steer and all wheel drive.
Innovations to the manufacturing process included a new roll hemming technology that allows for more sophisticated vehicle styling, and the application of new sound-deadening materials.
The direct injection engines – a 206hp, 2.4 litre DOHC I4 and a 290hp, 3.5 litre SOHC V6 – are both produced in Honda's Anna engine plant, also in Ohio.