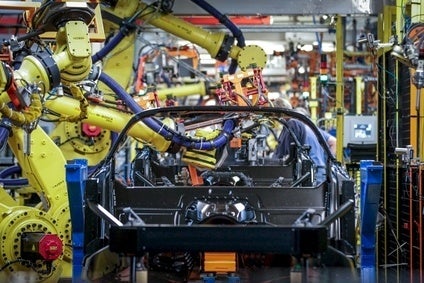 A new paint shop is included in General Motors' US$439m spend on its Chevrolet Corvette plant in Bowling Green, Kentucky.
According to the automaker, the spend secures 150 jobs. The 450,000 sq ft paint shop is almost half the size of the entire current production facility. GM spent US$135m at Bowling Green over the last four years to build the the new Corvette Stingray and the Performance Build Centre.
Construction of the new paint shop, which includes substantial technology upgrades, begins this summer and will take approximately two years to complete. Corvette production schedules will be unaffected, GM said.
Along with new tooling and robots, the paint shop's environmental and efficiency enhancements include:
Dry scrubber booth technology with limestone handling system designed to eliminate sludge water and waste
Light-emitting diode (LED) lighting for process decks for improved visual inspection as well as energy savings
FANUC robots with versa-bell three electrostatic applicators for an extremely smooth finish and maximum transfer efficiency, saving 25% of the paint material used which also benefits the environment
Longer, high-efficiency baking ovens for exceptional paint finish and lower energy use
Corvette production began in Kentucky in 1981 following assembly in Flint, Michigan and St Louis, Missouri (closed in 1986). Each has been an exclusive home of the Corvette, contributing to its distinction as the world's longest-running, continuously produced passenger car, GM claims. Over 1.6m have been produced in 62 years.
Corvette sales reached an eight year high in 2014 with almost 38,000 cars sold globally while the plant hosted a record 56,000 tourists last year. The latest spend on Bowling Green is part of the $5.4bn that GM is putting into its US facilities over the next three years.