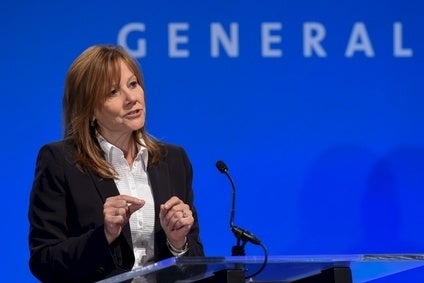 General Motors said on Wednesday (21 October) it booked third-quarter net income of $1.4bn or $0.84 per share, compared with $1.4bn and $0.81 per diluted a year ago after operating improvements were offset by one-off costs associated primarily with the ongoing ignition switch recall.
"Improvement in operating performance during the quarter was offset by a net loss from special items," the automaker said in a statement.
Earnings per share adjusted for special items was $1.50, up 55% compared to the third quarter of 2014, adjusted earnings per share were $1.50, beating the $1.19 average of 16 analyst estimates, according to Bloomberg.
Year to date to the end of the third quarter, adjusted earnings per share was $3.63, up 96% year on year.
Q3 earnings before interest and tax (EBIT) adjusted of $3.1bn and EBIT-adjusted margin of 8.0% were both records for any quarter, GM said, and compares with EBIT-adjusted of $2.3bn and an EBIT-adjusted margin of 5.8% in the third quarter of 2014.
"These results reflect our work to capitalise on our strengths in the US and China, while taking decisive, proactive steps to mitigate challenges elsewhere," said GM CEO Mary Barra. "GM is a vastly different company today than just five years ago. We're building a strong foundation, driving earnings growth in our core business and executing a plan to lead the future of personal mobility, all with the aim of creating shareholder value for years to come."
Net income included a net loss from special items of $1.5bn before tax, or $0.66 per share for the quarter. Special items included $0.9bn related to a deferred prosecution agreement reached with the US Attorney's Office for matters associated with the ignition switch recall, and approximately $0.6bn for the settlement of civil actions involving 2014 product recalls, including the ignition switch recall.
Net revenue during the quarter slipped to $38.8bn from $39.3bn in the Q3 2014 due to negative foreign currency effects.
Segment EBIT-adjusted results
GM North America reported record levels for EBIT-adjusted of $3.3bn, EBIT-adjusted margin of 11.8% and net revenue of $27.8bn compared with EBIT-adjusted $2.5bn and EBIT-adjusted margin of 9.5% a year ago.
GM Europe reported an improved EBIT-adjusted loss of $(0.2)bn compared with a $(0.4)bn loss in the third quarter of 2014.
GM International Operations reported EBIT-adjusted of $0.3bn, about equal to a year ago. Results included China equity income of $0.5bn, which generated a 9.8% net income margin.
GM South America slid into the red with a reported EBIT-adjusted loss of $(0.2)bn compared with approximately break-even results in Q3 2014.
GM Financial reported earnings before tax of $0.2bn, about flat year on year, but booked record revenue of $1.7bn.
"The third quarter was evidence of the earnings power of this company, as we continue to build on our track record for generating results and delivering on our financial commitments," said GM CFO Chuck Stevens. "We expect our earnings to accelerate in the next several years, with double-digit earnings per share growth."