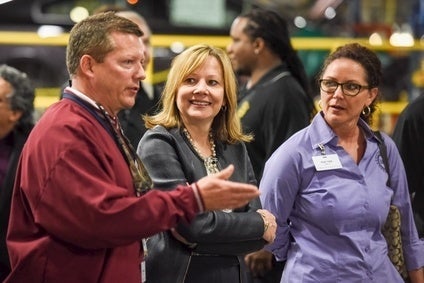 General Motors has built over a half billion vehicles in 106 years, the company announced.
GM CEO Mary Barra and GM North America and global Chevrolet president Alan Batey celebrated the milestone with customers, employees and dealers at the Fairfax (Kansas) assembly plant where 2016 Malibu production begins later this year.
"During 2015, we expect to sell more than 1,000 new vehicles per hour, 24 hours per day," said Barra. "This adds up to nearly 10m vehicles, the most in our history. I look at this extraordinary volume as 10m opportunities to prove what kind of company we are and to say thank you."
Batey announced GM would spend $174m on the the Fairfax plant for new equipment and technology to support production of the 2016 Malibu and improve customer satisfaction. One enhancement – a 'shake and rattle' booth – simulates any road condition a customer might experience – and identifies sources of noise so they can be fixed.
Last week, GM announced it would spend $5.4bn over three years to build the next generations of future vehicles in the US, including $783.5 million in Michigan and the $174m for Kansas.
Founded in 1908 and restructured in 2009, GM's global presence dates to the early 20th Century when Sun Yat-sen, the first president of China, and Pu Yi, the last emperor, took their first automobile ride in a 1912 Buick. By 1931, GM owned Vauxhall in the United Kingdom, Holden in Australia and Opel in Germany.
GM's first manufacturing joint venture with SAIC in China – Shanghai GM – began in 1997. China is now GM's largest market, where it has 11 joint ventures and two wholly owned foreign enterprises.
Hundreds of GM innovations have helped change the industry, including the first V8 engine, first automatic transmission, first automotive crash test dummies and first air bags in a production vehicle.