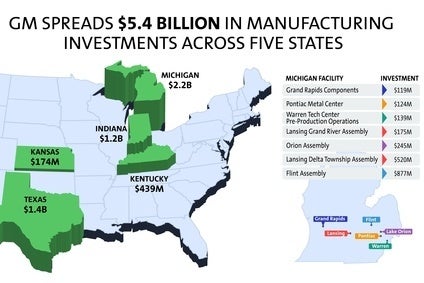 General Motors has announced the final plant spend of its US$5.4bn round revealed back in April.
This time, Flint, GM's oldest assembly plant in North America will get $877m to build a new body shop for the assembly plant, locating it closer to the Flint Metal Center, which supplies sheet metal and other parts used in the Chevrolet and GMC full size pickups produced in the assembly plant.
The spending will also cover improvements to the general assembly area as well as retooling and the installation of new equipment at the plant.
"This investment will allow us to use a more innovative approach to deliver material between two critical facilities, reducing handling and the time it takes to ship parts," said GM's North America manufacturing and labour relations chief Cathy Clegg.
Since 2011, GM has announced spending of over $1.8bn at Flint Assembly including $600m for plant upgrades and a new stand-alone paint shop under construction and scheduled to open in 2016.
Work on the new 883,000 sq ft body shop is expected to begin in the first half of 2016 with completion in 2018.
Opened in 1947 as part of a post-World War II building boom, Flint Assembly has produced more than 13m vehicles. The plant's 'View Builds', as they are called, allow customers to see their heavy-duty Chevy Silverado or GMC Sierra trucks being assembled and come off the line.
"While the plant has received numerous awards for initial quality and long-term durability and reliability, our latest investments in the plant will raise the bar in vehicle quality and customer satisfaction," Clegg said.
When the new paint shop opens in 2016, trucks will be painted using a wet coat process that results in a smoother, more durable finish. The new body shop will be constructed north of the Flint Metal Center, reducing transportation time and handling between facilities.
Since June 2009, GM has announced US facility spends totalling $17.8bn including $12.4bn since the end of the 2011 UAW-GM National Agreement. The automaker claims this has created approximately 6,250 new jobs and "secured" 20,700 other positions.