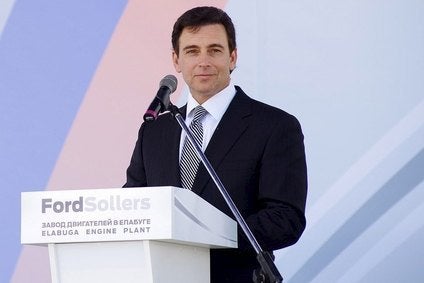 Ford has posted third-quarter financial results that show overall net income more than doubled over last year to $1.9bn. Ford's results were boosted by record quarterly profit in North America.
The company confirmed its guidance for the full-year of pre-tax profit of $8.5bn to $9.5bn.
Ford CEO Mark Fields said Ford is achieving higher market share, improved margin and is heading for a breakthrough year.
"The Ford team delivered an outstanding quarter – with record third quarter profit, best quarter ever for North America, higher wholesales, higher revenue, higher market share and improved margin. We are delivering a breakthrough year," he said.
Ford said that North America had its best quarter ever with all key metrics improved from a year ago. It said U.S. market share rose six-tenths of a percentage point due to better availability of F-150 and continued strength of the Explorer model. Wholesale volume and revenue increased from a year ago, a result of F-150 at full production, Ford said.
In the Asia-Pacific region Ford said third quarter revenue was unchanged and that China market share unchanged from a year ago. However, other metrics were lower than a year ago, "mainly reflecting investments in the products the company is launching this year and dealer stock reductions". Ford said that it expected a strong fourth quarter driven by new products to take full-year pre-tax profit to a level higher than in 2014.
Although Africa and the Mid-East were at breakeven for Ford and little changed on last year, there were continuing losses for the company in Europe and South America.
In Europe, Ford posted a third quarter loss of $182m (although that was a $257m improvement on last year) and said that it continues to expect pre-tax loss for 2015, though an improvement on 2014.
In South America, Ford posted a third-quarter loss of $163m. It said that within the "difficult South American conditions" Ford continues to work on all areas of the business to counter the effects of the external environment and expects some improvement to the full-year pre-tax loss to improve compared with 2014.