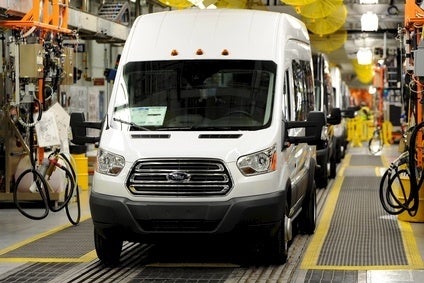 Ford was the largest and fastest growing manufacturer of commercial vans in the US in the first half of 2015, according to its analysis of IHS new vehicle registrations to the end of June.
Transit sales success has led the automaker to capture 56% of the US commercial van market as of June 2015 – up from 48% in June 2014, according to the registration data.
Commercial van sales are increasing as the US economy is growing, and Ford vans drove 80% of growth in the segment in the first half.
Ford commercial van sales increased 28% in January-June while the segment overall grew 11%.
Ford vans are top sellers in 47 states representing 99.09% of the US population.
For the 2015 model year, Ford produced more than 100,000 Transit vans, wagons, cutaways and chassis cabs at its Kansas City Assembly Plant.
The Transit Connect, imported from Turkey, leads the small commercial van segment with 69% share and is on pace to have another record year with commercial sales up 43% in the first half of 2015.