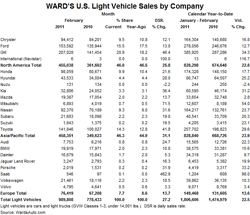 February proved to be a sweetheart of a month for automakers here in the US. Light vehicle sales reached nearly 990,000, 21.2% ahead of January 2011 and 27.2% better than February 2010. That total translated to a seasonally adjusted annualised rate of 13.44m light vehicle sales, 2.91m better than last February.
General Motors set the pace with a 46.4% gain as Buick and Cadillac posted strong results: Cadillac outsold Mercedes in February. GM's results spanned its range; just a handful of models missed their marks. GM also reported a big increase in retail sales.
Toyota posted the second-largest improvement; 41.8%. Toyota brand sales were up 48.5% with solid numbers from cars and light trucks, but those were dragged down by weakness in Lexus, now down to fourth among premium marques.
Ford sales were up a modest 13% as Lincoln and the ghost of Mercury took a bite out of a 22% increase in Ford brand sales. The new Fiesta is selling well and sales of the new Explorer are so strong, Ford is down to a 30-day supply.
Chrysler sales rose 12.1% last month: light truck sales overcame a slump in car sales as new models replace old ones. Chrysler says sales of the new 200 [replacing the Sebring] and Avenger are encouraging. Ram truck sales were up 81.0% and Jeep posted strong gains.
American Honda turned up a winner as sales climbed 21.6%. Both Honda and Acura divisions finished more than 20% to the good. Fit [Jazz] sales jumped 43.6% while CR-V sales came in 61.4% ahead.
Nissan North America set a February sales record as both divisions combined for a 31.8% leap. Nissan truck sales were especially good, up 65.9%.
Subaru posted another sales record, beating last February by 19.8%. Mitsubishi sales rocketed 71.5% and Mazda was in the black by 13.7%. Improved sales of the Equator boosted Suzuki sales 19.5%.
Hyundai and Kia reported new monthly sales records. Hyundai sales improved 28.0% while Kia bested last year's numbers by 36.4%.
BMW held the luxury lead for the month but is just 459 sales ahead of Mercedes for the year. Strong Jetta sales boosted Volkswagen 18.5% past its February 2010 results and Audi set a new sales record with a 24.7% improvement. Even Smart came in ahead of last year.
Jaguar missed its numbers by 9.1% but Land Rover kept Tata in the plus column, beating its year-ago results by 25.7%.
Volvo sales were up 3.3% and Saab improved 462.9%. If only there was some volume behind that number.
Light trucks captured the majority of February sales, though by a smaller margin than January's. Petrol prices don't seem to have changed the sales mix but sales of the smallest cars were up 29% in February.
Even with rising petrol prices, Americans don't seem to be in any hurry to embrace the new electric and mostly-electric cars: GM sold 281 Volts in February bringing the total to 928 since December. Nissan swept 173 Leafs off dealer lots in the same period.