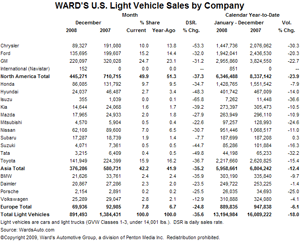 Chrysler led the Big Three plunge last month with sales off an incredible 53.3% year on year (adjusted for selling days) to 89,327 units.
Against that, Ford's 32% dip to 135,695 and GM's 31.2% fall (to 220,097) were closer to the norms of recent months.
Reports in the last few days of a post-bailout, post GMAC loan criteria loosening uptick in the dying days of December and into this month provided a small glimmer of hope for the beleaguered US-based automakers.
Optimism is also going to be required in import brand land. Toyota down 36.7% to 141,949; Honda off 34.7% to 86,085; Nissan down 30.7% to 62,108.
And so it went – a minus sign against every foreign brand in the December sales charts.
Maybe a glimmer of hope amongst the Europeans? Nope. BMW down 35.9% (21,626); Porsche off 25.5% (2,154); Daimler down 23.5% (20,867) and Volkswagen faring least poorly at minus 12.9% (25,289).
Total US light vehicle sales for December fell 35.6% to 891,483. Asian imports fell 35.2% to 376,286, Europe was down 24.8% to 69,936 and Detroit was off 37.3% to 445,271.
Year to date, the US market was down 18% to 13,194,984, from just over 16m last year.
The European brands were down 6.1%, Asians 12.4% and Detroit 23.9%.
Ahead of official numbers, Ford's top analyst had called 2008 at 13.5m, noting that the market hadn't collapsed that much year on year since oil crisis-hit 1974.
He expected a similar first quarter to the one just bid good riddance but saw a modest second half recovery taking 2009's total to 12.5m.
GM said it delivered 2,980,688 vehicles while maintaining an expected market share just above 22%.
"Annual deliveries were down 23% compared with 2007, largely due to building weakness in the marketplace throughout the year spurred by economic headwinds such as the dramatic reduction in credit availability experienced in the fourth quarter, coupled with historically low levels of consumer confidence. Additionally, the American Axle strike and several supply disruptions impacted GM's performance in the first half of the year," the automaker said in a statement.
"Given the ongoing challenges and the difficult market environment, we were very encouraged to see a volume rebound for GM in December compared with both October and November," said sales and marketing chief Mark LaNeve.
Cars last year outsold vehicles classified as light trucks 6,814,337 to 6,380,647 (vs 7.6m to 8.5m in 2007), reflecting the switch from gas-guzzling SUVs and recreational pickups as petrol prices soared mid-year. Nonetheless, the Ford F-series (515,513) and Chevrolet Silverado (465,065) truck lines topped the top selling car, Toyota's Camry (436,617). Detroit's top models was the sixth-placed Chevy Impala (265,840).
Both GM and Ford have signalled a major switch to smaller models, with considerable design input from their seasoned European units, starting in earnest next year.
At least the US players can know they are not alone. Japanese sales hit a 34-year low in 2008 and Spain is also posting one of its worst years ever.
The big question now: has bottom been reached?
Graeme Roberts