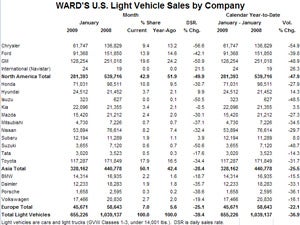 US light vehicle sales in January set a couple of records the automakers could do without: adjusted for selling days, volume dropped 39.4% year on year to 655,226 – a 27-year low and, for the first time ever, below China.
Worse, the January tally signals a seasonally adjusted annualised 9.57m units, US analysts said. That would be the lowest since June 1982 and smaller than 2009 new car sales in China of more than 9.8m units projected by the China Association of Automobile Manufacturers.
China's auto sales could total 790,000 units for January, local pundits say, and that would be well ahead of the 655,000 in the US.
"This is the first time in history that China has passed the United States in monthly sales," Mike DiGiovanni, General Motors's executive director of global market and industry analysis, said in a conference call last night.
He's also projected Chinese auto sales this year would reach 10.7m vehicles, more than the estimated 9.8-10.5m (and falling) range predicted for the US in 2009. Analysts Autodata have forecast 9.57m.
Chrysler said that, though it had been anticipating US sales of 11.1m this year, it could end up below 10 million "due to the reduction of consumer credit and tightening of the lending standards".
Last year's sales were a 16-year low of 13.2m.
"The truth is that the entire auto industry finds itself in the eye of this economic storm," Toyota US executive Bob Carter said last night.
"Even with a boost from the anticipated federal stimulus plan, we see consumers taking a cautious approach to large ticket discretionary purchases," S&P equity analyst Efraim Levy said in a client note cited by Reuters.
Last month's results must make for grim reading in Detroit this morning: Chrysler's sales plunged a frightening 56.6% to 61,747 units; GM was off 50.9% to 128,254 and Ford fell 42.1% to 91,368.
And let's not forget that, though down 4%, Toyota's 8.97m-unit sales tally for 2008 comfortably beat General Motors' 8.35m.
In their defence, the Detroit Three have been dialling back low-margin fleet sales while sales to daily rental firms have been cut as those companies reduce orders as their business slumps.
The decline in fleet sales – down 80% to 13,000 vehicles – hit GM though North American sales chief Mark LaNeve noted that the company's retail market share was above 21% for the second consecutive month and a full percentage point above the company's average during the past year.
Domestic brand sales fell 43.2% to 469,026 while the imports at 186,200 were off 26.9%.
Good news was also hard to find among the imports with Toyota down 34.4% to 117,287, Honda off 30.7% to 71,031, Nissan down 32.4% at 53,894, Mazda down 30.1% to 15,420 and Mitsubishi off 37.1% to 4,730. (Q3 results and full-year forecasts for those two today also make grim reading.)
It fell to a Korean automaker to report US sales last month in black ink: Hyundai (apparently benefiting from a new sales campaign that lets buyers return financed cars without penalty should they lose their jobs) was up 9.9% (14% unadjusted) to 24,512 units and affiliate KIA dipped just 0.5% to 22,096.
"[Hyundai's is] a very smart programme," Edmunds.com analyst Jesse Toprak said. "People are uncertain about the future and if you give them some security blanket that makes them feel better about the future, about their purchase, it can go a long way."
It was also red ink in Euroland: Porsche January sales were off 38.6% to 1,658 units, Daimler, despite its new fuel-sipping Smart line, down 35.7% at 12,233, Volkswagen down 19.4% to 17,466 and BMW off 18.7% to 14,314.
GM has cut its first-quarter production plan by just under 10% and, along with Chrysler is offering new discounts to try and stir consumer interest.
"We're in the mouth of this monster, and we have a lot of work to do," Chrysler sales chief Steven Landry said.
US auto sales account for as much as 20% of retail sales and the sector's latest bad news came on a day iconic department store chain Macy's announced 7,000 US-wide layoffs, the latest in ongoing gloom from a sector that's been pummelled by the economic crisis. Many other retailers, such as Home Depot, have announced layoffs and the Circuit City electronics chain has closed its doors completely.
Automakers' downbeat results added weight to the view that the battered sector will be a further drag on US output, Reuters said today.
GM has blamed tight credit for the downward spiral in sales since September.
"People are coming in, wanting to buy vehicles and they're being turned down, just that simple," GM sales analyst Mike DiGiovanni said. "And we have to break and thaw the credit markets for consumers who want to buy automobiles."
Ford, which will be eyed this year to see if it can ride out the downturn on its existing US$24bn of cash without drawing on the federal government's TARP loan fund, as GM and Chrysler have, is hoping the US market will improve in the second half as an expected fiscal stimulus package takes hold and consumer confidence recovers.
Ford told Reuters there were some encouraging signs in January. Showroom sales appear to have stabilised even though sales to rental agencies were down sharply. Used car prices also appear to have stopped falling, executives said.
"What we are looking for at this point is stabilisation," Ford economist Emily Kolinski Morris said. "You have to stop falling before you can start rising."
Ford, also trying to put a positive spin on the gloomy numbers, stressed that its share of the retail market rose year-over-year for the fourth consecutive month, the first time that has happened since 1995.
Nonetheless, the sales woes have resulted in auto makers slashing production. GM's North American production was down 78% in January from a year ago, and the company expects first-quarter output to be off 57%.