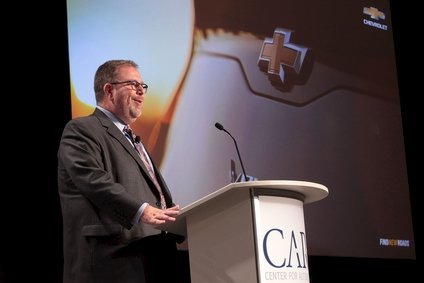 A top General Motors executive remained tight-lipped on details of the redesigned 2016 Chevrolet Volt the automaker announced would be launched at the Detroit show in January 2015.
Global Chevrolet chief marketing officer Tim Mahoney deflected specific media questions following his presentation at the Management Briefing Seminars in Traverse City, Michigan, WardsAuto.com reported.
"You'll see improvements all the way across, from technology to design," was all Mahoney would say about the new car. "There will be more technology. We're not going backwards."
He added the 2015 Detroit show "seems like a natural place" to unveil the new extended-range hybrid-electric vehicle. The current model is built in Michigan.
"The 2016 Volt will build on the award-winning original's strong foundation of technology innovation," GM said earlier in a statement.
"Volt sales were up 13% in July and more than 65,000 have been sold since it was introduced – making it the best-selling plug-in passenger car in the US market." The Volt was running about fourth in the EU to the end of May, when sales of both the Volt 'original' and its Opel/Vauxhall Ampera variants are combined.