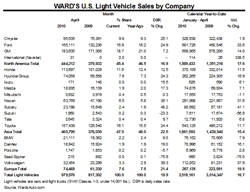 April was a decent month for automakers here in the US. Sales rose 19.9% to almost 980,000 vehicles, yielding a seasonally adjusted annualised sales rate (SAAR) of 11.21m units, down from March 2010 but miles ahead of the dismal 9.23m-unit showing from last April.
General Motors finished the month with a 7.2% increase over April 2009. Sales of the core Buick, Cadillac, Chevrolet and GMC brands were up 19.7 percent. Year-to-date (YTD) sales were 14.0% ahead of last year.
Ford sales jumped 24.7% in April: the company is now 33.0% ahead of their January-April 2009 results. All three domestic brands brought in double-digit gains while Volvo was 1% to the good.
Chrysler was the big story: sales jumped 25%. Both Chrysler and Dodge brands reported 61% gains as car sales soared 96 percent. Chrysler is now 1.9% ahead of this time last year and has moved past Nissan into fifth place among the major automakers.
In terms of market share, the domestic brands are still slightly ahead of where they were in the first third of 2009, but they stumbled slightly in April, giving up a point of share.
Kia sales rose 17.3%, again driven by the U.S.-built Sorento. Fleet sales gave Hyundai a 29.7% gain and another monthly record.
The E-class helped Mercedes-Benz best its April 2009 numbers by 21%. Smart sales remain in a slump, down 49.4%.
BMW finished April 10.0% ahead of the same period last year with solid results from the 1-series and 3-series. Mini sales were up 5.1% with modest gains across the board.
Audi set a new April sales record with deliveries up 32.9%. Led by a 222.5% increase in (Golf) GTI sales, Volkswagen's volume jumped 42%.
Porsche sales fell 5.7% as the company sells off Cayennes in anticipation of the update. The Panamera is now Porsche's best-seller here.
Tata may well wonder if anyone can save Jaguar. With a 30.1% shortfall, the leaping cat continues to limp even as Land Rover reported a 34.6% boost in April sales.

Saab sales nosedived 75.9 percent; Spyker clearly has some work to do to resurrect GM's cast-off.
Toyota bought another improved month; sales were up 24.4% but the numbers still left it in third place. Lexus has regained its crown as the top premium brand.
Honda sales rose 11.7% on good results from the Odyssey, CR-V and Pilot. Acura moved major metal: the MDX and RDX both posted improvements of more than 50 percent.

Nissan sales rose 33.8% in April with gains from the Versa and Sentra and a strong finish from its light trucks. Infiniti did even better, jumping 46.2% as the new M posted a 174.8% advance.

The smaller Japanese brands reported mixed results; Mazda reported its seventh consecutive month of better sales and Mitsubishi saw a second month of sales growth. But Suzuki reported a 23.3% deficit.

After being battered first by petrol prices and then by the collapse of the construction market, trucks are making a comeback, a Detroit-friendly trend worth watching.