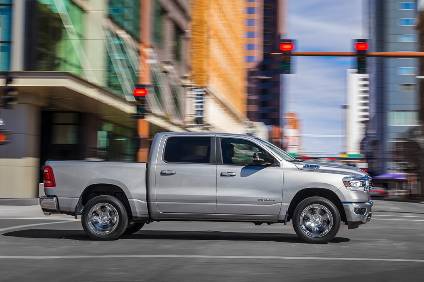 The US light vehicle market edged up in October, according to preliminary estimates, the market feeling the benefit of strong economic fundamentals, even as analysts warn of an outlook for softer demand as interest rates rise.
More analysis of October US light vehicle market
The market uptick versus October last year surprised many analysts.
Cox Automotive said October sales beat its initial forecast of 1.33m units. Industry estimates put the October market at a little under 1.4m units. The SAAR for the month is estimated at 17.5m against widespread expectations of around 17.3m. The market continued to move in the direction of SUVs, premium vehicles and pickups, and away from standard passenger cars.
"Interest rates are taking payments up, along with higher transaction pricing," Mark LaNeve, Ford's US vice president of marketing, sales and service, said on a conference call. But LaNeve also said that rising wages were helping consumers afford higher monthly payments. Analysts note that auto finance is still readily available, the economy is growing at a relatively high rate and unemployment is low.
Ford, Honda and Nissan recorded sales declines of 3.9, 4.1 and 10.6 percent, respectively. General Motors, which no longer reports monthly figures, was likely down by around 9 percent, according to projections. Some carmakers are getting out of regular passenger cars, preferring to offer trucks and SUVs in heavy demand and with bigger margins – but that means market share inevitably declines.
Analysts, though, are warning that the US vehicle market faces softer demand conditions ahead.
Interest rates on new vehicles averaged 6.2% in October, up 1.3 points from a year earlier and marking the highest rate since January 2009, according to Edmunds.
"It's getting harder and harder for shoppers to afford a new car, and if the economy starts to slip, we're at a point now where we really could start to see some significant impacts in the auto market," said Jeremy Acevedo, Edmunds' manager of industry analysis.
The average transaction price of a new vehicle sold in October was $37,007, up 3 percent from a year earlier, according to Cox Automotive. As consumers get out of sedans to buy large SUVs, there is a natural gravitation to higher prices. Electric vehicles also help to push transaction prices up.
Ford said its average transaction price hit an October all-time high of US$36,800, marking an increase of US$1,400 from a year ago.
FCA's Jeep and Ram brands continued to do well in October. Jeep was up 8.5% to 72,800 vehicles; Ram posted a 14% gain.
One analyst highlighted the flip-side to strong sales of trucks and premium vehicles. "October was a strong month for transaction prices, as the new car average rose 3 percent," said Tim Fleming, analyst for Kelley Blue Book. "However, much of the growth was aligned to higher priced vehicles like full-size trucks and SUVs. In addition, Tesla is now driving the industry numbers up in a meaningful way, as the brand's sales volume recently soared to the level of top luxury automakers. All segments in the $20,000 to $30,000 price range also showed little-to-no growth, which could be cause for concern considering these segments make up nearly half of the industry's sales totals."