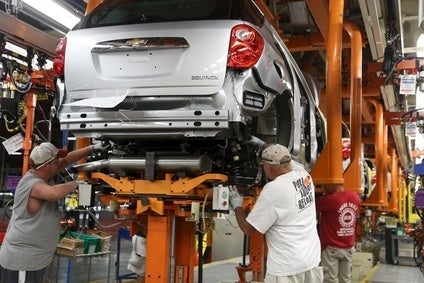 General Motors said on Wednesday (27 August) it would spend US$185m to make small petrol engines at its Spring Hill manufacturing complex (once a Saturn plant), retaining 390 jobs. GM also said it would build the next generation Cadillac SRX there, moving the model from Mexico.
An additional $48.4m spend is planned for the Bedford, Indiana, powertrain castings plant, creating or retaining 45 jobs.
Both spends are for the automaker's new small displacement engine which is part of an all-new Ecotec engine family that will be used by five GM brands in 27 models by the 2017 model year, powering many of the company's high volume small car and compact crossover vehicles.
Spring Hill is among six global plants that will produce the new engine.
The new Ecotec line includes 11 engines with three- and four-cylinder variants ranging from one- to 1.5-litres – including turbocharged versions – and power ratings ranging from 75hp (56 kW) to 165hp (123 kW) and torque ranging from 70 lb ft (95Nm) to 184 lb ft (250Nm).
"The new Ecotec engine family represents the most advanced and efficient small displacement gasoline engines in GM's history," said Arvin Jones, GM North America manufacturing manager. "It was a good business decision to produce this powertrain in Bedford and Spring Hill. Both teams have strong performance records, especially in quality."
Spring Hill currently manufactures the Ecotec two-litre turbocharged direct injection I4 engine, and 2.4- and 2.5-litre variants which power the Chevrolet Malibu and Impala. Bedford currently produces transmission casings, converter housings and small petrol engine blocks.
"This is an all-around good news story for our members in Spring Hill and Bedford," said UAW vice president Cindy Estrada who heads the union's GM Department. "We worked with GM to create this success story through the collective bargaining process." She added UAW members were "looking forward to the next-generation Cadillac SRX being returned to the USA".
GM previously announced a $350m spend at Spring Hill for two future mid-size vehicles expected to create or retain approximately 1,800 jobs.