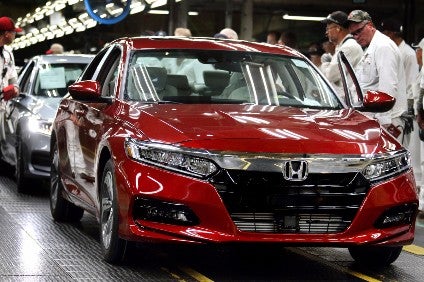 The midsize sedan is no longer the vehicle of choice for the American family, according to new analysis from Edmunds.
After 20 of the last 27 years as the best-selling vehicle segment in the US, midsize sedans have taken a dramatic downward turn in popularity. Midsize sedans were the top-selling vehicle segment as recently as 2014, but so far in 2017 have tumbled to fifth behind compact SUVs, large trucks, midsize SUVs and compact cars. Market share for midsize sedans is now a meagre 10.7% — the segment's lowest share since Edmunds began its tracking in 1991.
"While it's common for consumer tastes to change over time, it's surprising to see just how quickly shoppers have made the switch from sedans to SUVs," said executive director of industry analysis Jessica Caldwell.
"As recently as three years ago, the Accord made up nearly 30% of all of Honda's sales in the US and, so far in 2017, it's down to 22%. Now that shoppers can now get an SUV for a similar price as a sedan and not have to pay much more at the pump, it's hard to convince them the smaller vehicle is a better choice."
In the midst of this dramatic pivot in shopper tastes, the two of the most popular cars in America — the Toyota Camry and Honda Accord — were redesigned for 2018, Edmunds noted.
While sales of both vehicles have declined in recent years, they've pulled further ahead of their rivals and are now competing closely to catch the attention of interested buyers.
"As the pool of buyers shrinks, you have to put out that much better of a product to keep your share of the segment, and that's exactly what Honda and Toyota are trying to do with the new Accord and Camry," Caldwell said.
"Both are leaning on edgier design and a sportier image to convince shoppers that their vehicle is the stylish, fun choice in a segment that has a reputation for being overtly practical."
Even if the new Accord and Camry launch with rave reviews from media and car buyers, Edmunds' analysts reckon it's highly unlikely the midsize sedan segment will ever return to its former glory. Nearly one-quarter (23.5%) of midsize sedan owners who trade their vehicles in and buy a new vehicle purchase a small SUV, up from 16.9% three years ago.
"Even if gas prices spike and the economy takes a downward turn, we don't see this trend reversing," Caldwell said.
"Once someone gets used to the higher ride, extra space and creature comforts they can get in an SUV, it's almost a fool's errand to convince them to go back to a sedan."