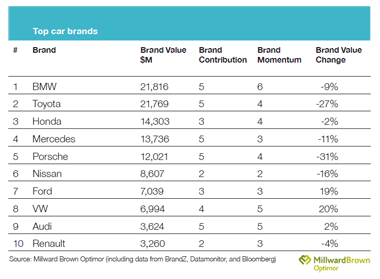 BMW is now the most valuable brand in the automotive sector, according to research released today, displacing Toyota, which has been tarnished by the recall scandal all year.
The report called the BrandZ Top 100 – compiled by the market research company Millward Brown – said BMW's brand value now stood at US$21,816m a fall of 9% on last year. However, it leapfrogged Toyota which plummetted 27% to $21,796m.
Honda was rated the third most valuable brand in the sector at $14,303m – a fall of 2% on last year.
Ford, VW and Audi were the only car brands in the top 10 to register growth, of 19%, 20% and 2% respectively.
"For Toyota, the pressure of the recession was compounded by performance problems. Among the most valuable and trusted brands in the world, Toyota suffered at least temporary damage to its reputation when it responded slowly to reports of stuck accelerator pedals that ultimately prompted a massive recall," the report said.
"This year's ranking only reflects the damage done to the brand as the recalls began at the end of 2009; the brand is likely to have suffered further in recent months. The strength of the Toyota brand and the fact that it is highly trusted puts the company in a strong position to recover."
Although not yet among the Top 10 in this category, fastgrowing Hyundai and Kia were singled out for investing significantly in advertising and were considered especially well positioned.
The Korean brands offered sharp styling at a competitive price, providing the kind of value
proposition that appealed to recession-weary shoppers. In addition, the companies removed any performance risk with long-term warranties," the report said.
It went on to say that the interest in less expensive brands may signal a post-recession shift in consumer attitudes where prestige at almost any price becomes less desirable than more tangible benefits, such as improved performance, for a reasonable price.
"Demand for status brands will not disappear, but its centre of gravity may shift to fast-growing country markets, particularly China."
Overall, BMW was rated the world's 25th most valuable brand by the report, with Google, IBM and Apple holding the top three spots.