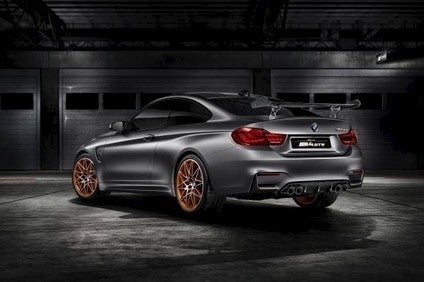 A concept version of the BMW M4 is making its global debut at this week's Monterey Car Week in California. The prototype's engine features water injection, which is claimed to both boost power and lower fuel consumption.
The Concept M4 GTS has the same water injection system for its turbocharged gaoline engine as that of the MotoGP Safety Car which has been seen on racing tracks around the world this year.
BMW says the liquid is injected into the plenums of the intake manifold as an atomised spray. As the water is vapourised, the temperature of the intake air plunges. This allows a higher boost pressure and earlier injection timing, while reducing the danger of engine knock, BMW claims.
Thanks to water injection, there is said to be an increase in output and torque, while at the same time a reduction of thermal stress on performance-relevant components.
BMW chosen not to announce the power and torque outputs of this turbocharged in-line six-cylinder engine but it has revealed a few details of the cooling system. In addition to the main radiator, there are two others for the high- and low-temperature circuits, transmission and turbocharger so as to keep temperatures stable. The turbochargers are cooled by means of an indirect intercooler, assisted by an additional electric water pump.
The Concept M4 GTS "showcases new technologies destined to make their series production debut in a new model to be unveiled at a later date", BMW's 14 August media release adds.