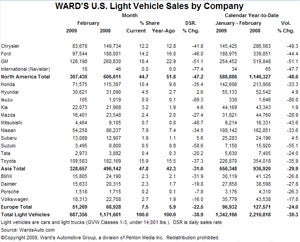 US light vehicle sales data for February is grim reading, to say the least. Adjusted for selling days, the Detroit-based brands were down 47.2% year on year, Asian brands off 31% and Europeans fell 22.5%. Overall, the industry tanked by 38.9% to 687,356 while year to date sales were down 39.3% to 1,342,166.
General Motors, whose adjusted sales, as calculated by WardsAuto.com, plunged 51.1% to 126,198, said fleet sales fell 75% though its car sales were up nearly 23% month on month and crossover sales increased 6% "as financing availability continued to improve and slightly more fleet orders were able to be filled".
"Retail sales for the month were off 43% compared with a year ago in a total industry vehicle market estimated to be the weakest February since 1967," GM said.
"It remains a tough and challenging market, but seeing some upticks in volume and showroom traffic compared with last month is encouraging," said sales chief Mark LaNeve.
Ford sales fell 46% to 97,544.
"The economic and competitive environment remains challenging," said Ken Czubay, the automaker's head of sales and marketing. "A key element of our strategy to build our reputation and improve resale values is to align our production with consumer demand," he added.
Chrysler sales fell 41.8% to 83,678, adjusted. The automaker itself claimed retail sales of 66,658 units, a 26% decrease year on year in a total retail industry off a projected 35%, but said it boosted its share of that to 11.0% versus 9.6% in February 2008. Chrysler's February fleet sales were down 71% year on year as it focuses on more profitable retail business.
"We see our retail number as a shining light of positive news," said Chrysler president Jim Press.
He added that even though Chrysler was seeing a firming of retail demand, the overall economy was still being influenced by the lack of available credit for consumers.
Things weren't much better in import brand land. Of the major Japanese players, Toyota sales were down 37.3% last month to 109,583, Honda was off 35.4% to 71,575, Nissan volume fell 34.5% to 54,258 and Mazda was down 27.4% to 16,401.
Only Subaru (5.6% to 13,089), Kia (4.6%; 22,073) and Hyundai (2.6%; 30,621) posted rises – Hyundai's (relatively) no quibble, return-the-car-if-you-lose-your-job incentive seems to be working.
"The pattern that emerged a few months ago seems to be continuing," said Dick Colliver, who heads sales at American Honda. "We hope, as spring beckons and the economy strengthens, sales will begin their upswing."
BMW fared worst amongst European importers last month though BMW model changeovers and the absence of a Mini convertible accounted for some of its 31.9% plunge to 15,805 units. Daimler sales fell 19.8% to 15,633 and VW was off 16% at 18,313.
"February was another downer for the whole market even though it was filled with compelling buys," said BMW NA president Jim O'Donnell. "While we assume our sales will be affected by the overall economic environment like others, we're now entering a period of a large number of returning lease customers and it's our challenge and opportunity to put them in a new BMW in the coming months and continue to increase our share of the premium market."
"The economy slowed so much in December and January that Mini felt the pain," said division head Jim McDowell. "In February however, sales were up 36% compared to January '09 and we're now seeing some who had been on the sidelines putting their feet back in the water shopping for cars as evidenced by increasing website traffic and online configurations being sent to dealers."
Autodata calculated that the February overall sales figure translated into a seasonally adjusted annualised 9.12m units, marking the lowest level since 8.8m were recorded in December 1981.
"March will be a key month," said GM sales analyst Mike DiGiovanni.
Jeff Schuster, executive director of global forecasting for JD Power & Associates, told Dow Jones he expected February and March to be the year's low point.
"But a high degree of uncertainty and risk remains for the second half of 2009 if the various factors that are currently impacting automotive sales do not improve or stabilise," he added.
Various analysts and dealers said last night on US TV news network broadcasts that consumer confidence was still lacking and that potential buyers would not sign on the dotted line while they felt their jobs could be in jeopardy, making them unable to keep up payments they had committed to.
Americans are now keeping their vehicles an average of four years and the average age of the US fleet is now around 9.5 years, up a year on a decade ago.
Graeme Roberts