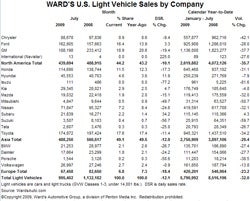 Boosted by a week of the US government's 'cash for clunkers' CARS scheme to get old gas guzzlers off the road, and their owners into new vehicle showrooms, July saw US light vehicle sales slump by only 12.1% to 995,402 units – and one of the Detroit Three even post a rise.
That would be Ford, then, which last night said its volume rose 2% to 158,838 units with retail sales up 9% to 118,197.
Fed through the WardsAuto.com computer, which factors in available selling days and the blue oval tally polished up even better, rising 3.3% to a 162,805-unit total. Little wonder chief sales analyst George Pipas looked pleased as he talked through July with NBC Nightly News last night.
Over at Auburn Hills, Chrysler dropped 9.4% versus last July to post 88,678 units sold while GM was off 19.4% to 188,198.
All way better than the horror story spreadsheet stats earlier this year. In total, the US three dropped 10.1% to 439,694 while the Asian brands dipped 12.9% to 488,250 and the Europeans were down 18.4% to 67,458. Signs of a little US patriotism perhaps?
Things weren't so rosy in foreign-owned brand land. While Toyota's rate of decline slowed to 11.2%/174,872 units, Honda was down 17.3% to 114,690 and Nissan off almost a quarter to 71,847.
Among the Japanese minnows, Subaru sales rose 34.2% to 21,839 but Mitsubishi and Suzuki remained in the doldrums, off 49.7%/4,847 and 56.7%/3,507 respectively.
Maybe Suzuki's new mid-size sedan, launched late in July, will give it a boost but a me-too product in a heavily-fought segment does not fill us with hope.
One month does not a successful year make but, though the year to date fall was still a hefty 32% to 5,790,992 cars and trucks, the annualised sales rate rose to a seasonally adjusted 11.2m in July from 9.69m in June, according to Chrysler. Way off the 15-17m of the happy times earlier in the decade, yes, but still an improvement.
The big worry is that July retail sales were spurred only late in the month by 'cash for clunkers' programme which burned through the original US$1bn allocation in just the first week and was credited with the sale of about 200,000 vehicles.
Lawmakers, no doubt with calls from automaker and dealer lobbyists still ringing in their ears, quickly hurried an additional $2bn through the lower House of Representatives in Washington late on Friday but last night's reports suggested Senate passage will be a bit harder with some senators arguing that the taxpayer-funded rebates are giving the auto industry an unfair advantage over other consumer durable sectors such as electronics. "Let's give people incentives to buy LCD TVs, shall we?" thundered one state representative on the hill.
"The government's programme is doing what it is designed to do – spur consumers to trade in older gas guzzlers for new, fuel-efficient vehicles," Chrysler brand president and sales chief Peter Fong said.
"While we don't expect the industry sales forecast to change dramatically, we are seeing encouraging signs that consumer confidence is building, and more consumers are considering purchasing a new vehicle."
Chrysler was yesterday reported to have axed a campaign offering up to double the clunkers incentive because inventory was fast running short after factories closed during the automaker's bankruptcy restructuring.
Other report last night said it had reduced inventories to 40 days supply (136,734 vehicles), down 68% year on year.
NBC Nightly News showed a GM dealership full of potential buyers and busy sales people rushing to file CARS paperwork on time before the money ran out so a lot of auto industry eyes will be on the Capitol this week to see what the politicians decide before they pack it in for their summer break.
Individual model wise, Ford's F-series remained top of the tree in July (215,959) and the Camry clung to the second place (184,216) it won from Chevy's SILVERADO (177,556) last month.
Graeme Roberts