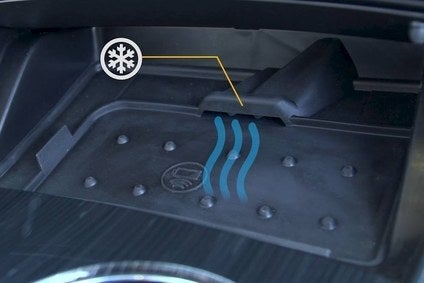 The air conditioning vent in the glovebox to keep drinks cool and chocolate from melting has been around for decades but now General Motors is introducing a phone cooler.
Chevrolet is introducing patented technology called Active Phone Cooling in several North American market models equipped with an optional wireless charging system supplied by Visteon.
The company said though some smartphone overheating is normal, "it can be disconcerting as it saps the phone's battery life and slows processing speeds. Industry-first technology coming soon… can help cool down this problem".
While GM engineers were testing a wireless charging feature, they noticed some smartphones would suspend charging or shut off altogether after only a few minutes in high temperatures inside the car's cabin.
Most smartphones have built in thermal protection features to protect battery life, but that protection – which can cause the phone to pause charging or turn off until it has cooled down – is inconvenient for those who rely on smartphones for streaming music, navigation or receiving phone calls.
Active Phone Cooling is available in several Chevrolet models the 2016 Impala, Malibu, Volt and Cruze.
"No other automotive manufacturer offers a similar solution for in-vehicle smartphone cooling," GM claims.
An air vent connected directly to the car's air conditioning and ventilation system is directed to the charging bin where the phone rests for wireless charging, sending cool air to help lower the phone's temperature. The active cooling operates only when the HVAC system is turned on by the driver.
"Over time, regular overheating can do permanent damage to the lithium ion batteries that power our smartphones. I always recommend keeping your phone in a cool, ventilated place, where it can stay at a comfortable room temperature, whether it's charging or discharging," said Jeffrey Van Camp, deputy editor of Digital Trends.
Several factors can cause or worsen overheating in smartphones like heavy strain on the device's data and graphics processors, high ambient temperatures or simply charging the device. The problem can be worse inside vehicles during hot weather.
"Innovation doesn't mean reinventing the wheel," said Impala engineer Dan Lascu. "Sometimes simplicity offers the most elegant solution to a problem."
After pairing compatible phones with the optional MyLink radio, Impala and Malibu customers can access phone features such as streaming music or making phone calls through steering wheel controls or voice commands.
Active Phone Cooling will also be available in the 2016 Chevrolet Volt and Cruze when they go on sale later this year.