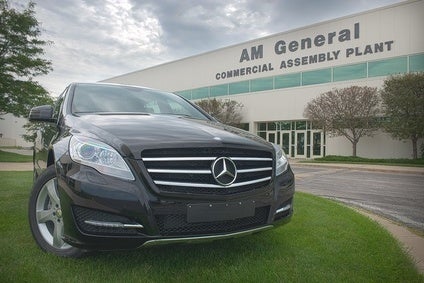 Contract manufacturer AM General has rolled its first Mercedes-Benz R-Class off the line at its vehicle assembly plant in Mishawaka, Indiana.
Earlier this year, AM General and Mercedes-Benz struck a multi-year agreement to move production of the R-Class luxury vehicle, currently only sold in China, from Mercedes-Benz's Tuscaloosa, Ala. plant to AM General's 675,000 square-foot Commercial Assembly Plant. Over time, the move is expected to create more than 200 jobs at AM General.
AM General's Commercial Assembly Plant is described as a full service manufacturing and support facility that utilises robotic welding, painting and assembly techniques coupled with a lean manufacturing culture and highly skilled workforce to meet the requirements of its customers.
"The luxury R-Class is a testament to the demand for quality, innovation and performance that we share with our partners at Mercedes-Benz and we thank them for their commitment to our facility and operation here in Indiana. AM General is the global leader in advanced vehicle production and we stand ready to meet the needs of auto companies here in the US and around the world," said Howard Glaser, President, AM General Commercial. "We look forward to continuing to deliver world-class vehicles for Mercedes-Benz and other customers as this segment of our business continues to grow."
"We take the needs of our Chinese customers seriously and, therefore, continue to produce the R-Class, which is very popular in China. We have found the ideal partner for this project with AM General. As a production specialist, AM General reliably fulfils the high requirements in terms of processes and especially quality, which globally apply to the production of Mercedes-Benz passenger cars," said Jason Hoff, President and CEO of Mercedes-Benz US International.