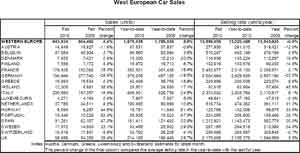 Car sales in Western Europe grew by 4.4% in February according to data released by JD Power Automotive Forecasting.
The seasonally adjusted annualised rate of sales (SAAR) reached 14m units, a solid increase from the 13m units outturn in January 2010.
The positive February result reflects some continued lift from the tail-end of scrappage schemes.
Car sales in Germany were firmly in post-scrappage decline with sales down by 29.8%; the year-to-date market was down by 19.5%. However, JD Power said that the German market result 'hints that the bottoming out in the post-incentive period may be shallower than first feared'. JD Power now projects a market of 2.8m units for Germany this year.
In both France and Italy, sales continued to perform strongly in February as late 2009 scrappage incentive scheme applications came through into registrations.
While support in France is not to be completely withdrawn in 2010 — and sales are therefore unlikely to drop sharply — Italian demand is poised for a steeper decline in the coming months as the incentive scheme there is not to be renewed.
For the UK, JD Power said it retains a stable view on the outlook as the result was in line with expectations. The March result will be an important one — owing to the strongly seasonal pattern in the UK which sees high March and September volumes as standard.