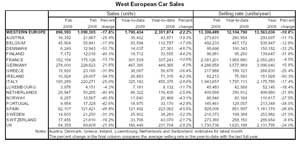 West European car sales were down by 18% in February according to JD Power Automotive Forecasting. However, the data specialist said that the result was better than expected on the back of government sponsored scrappage schemes and additional price reductions by carmakers.
JD Power said the seasonally adjusted annualised rate (SAAR) of sales hit 13.3m units.
Car sales in Germany were up by 21.6% and JD Power said that there were reports of 'exceptional deals' in the market.
The firm said that its challenge is to forecast how effective will be the scrapping incentives if they are supplemented with substantial OEM pricing incentives aimed, primarily, at reducing excess vehicle stock levels in Europe.
It said that more upbeat result in February indicates that, for the next few months, we are likely to see a considerable positive impact resulting from the combination of these actions, albeit against the backdrop of a severe recession.
However, JD Power also warned that incentives will be of limited duration and will also come with a price to pay in terms of negative impact after the incentives expire or are cut back. Declines in the selling rate in the second half of 2009 and in 2010 are now more likely as a result of these actions, it said.
In Germany, the positive incentive impact has been the strongest: the selling rate leapt to a remarkable 4.3m units/year as buyers rushed to take advantage of the highly unusual situation of combined government-OEM discounts.
JD Power said it expects a relatively healthy market performance for several months before the initial excitement begins to wear off. Sales in Germany for full-year 2009 may be down by only a small amount as a result.
French sales have been boosted by a similar combination of incentives, though the scale of the boost appears to be somewhat smaller.
In Spain and Italy, the impact was more muted still. Spanish sales continued to languish at a level around half of that one year ago, while Italian demand also remains weak.
The UK market was a little stronger than expected but February is a statistically weak month — the March result will be of much greater importance, it said.
JD Power forecasts that the West European car market will fall 15% to 11.52m units in 2009. A market at that level would be just over a fifth down on 2007's 14.8m peak.
Published on just-auto yesterday (March 4):
GERMANY: Scrappage incentive helps lift Feb car market 21%
Scrappage incentives in Germany helped to lift the February car market there by 21.5%, year-on-year. However, a JD Power analyst told just-auto that manufacturer incentives on top of the government scrappage incentive also played a part in the sales surge….more