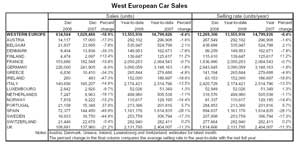 Car sales in Western Europe fell by 18.9% in December according to data issued by JD Power. For the 2008 full year, the market was 8.4% down on 2007 at 13.56m units, the company said.
The forecaster also revised its 2009 West European car market forecast down to 11.4m units (which would represent a 16% decline on 2008's market).
December's year-on-year drop looks even worse when the extra selling day in 2008's month is taken into account.
The latest result meant that 2008 saw a drop in sales volume of over 8%, the largest annual fall since 1993.
JD Power said that the results of recent months highlight that the 'situation is getting worse'.
The German market again registered a sub-3m units annual selling rate in December and meant that the market for the full year failed to reach the relatively weak 2007 total.
With the economy deteriorating, JD Power projects that 2009 sales in Germany will come in at around 2.75m units, a level not seen since the 1980s.
Registrations in France were lower last month, down 16% even though there was one more selling day. The first and second halves of 2008 contrasted, with the good start to the year undone later as the global financial crisis had a more significant impact. 2009 looks set to be a somewhat tougher year for French car sales, JD Power said.
In Spain, sales in December were down 50%, this following on from the same percentage drop in November. The full year result for 2008, at 1.16m units, is the lowest since 1997. Unfortunately, 2009 is shaping up to be an even worse year — recent monthly running rates have come in below 900,000 units a year and the economic picture looks set to deteriorate further. JD Power said it forecasts a drop of over 25% in 2009 versus 2008.
Another car market to see a double-digit percentage fall in 2008 was Italy. The December result was again year-on-year down (by 15%), albeit compared to a strong December 2007 result. The selling rate came in somewhat higher than previous months, though this points more to a year-end push by manufacturers in an attempt to claw back some lost ground earlier in the year, rather than a more sustained turnaround in fortunes for the market, JD Power said.
With the December market down by 21%, the UK finished the year at 2.13m units, 11% down on 2007. JD Power forecasts the UK car market to dip below 1.7m units in 2009.