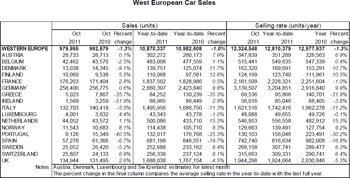 Data released by LMC Automotive (formerly JD Power Automotive Forecasting) shows that car sales in Western Europe declined by 1.3% in October as Europe's sovereign debt crisis swirled and the German car market lost further momentum.
The automotive data and forecasting company said that while the months of August and September had showed some improvement on a desperately weak July result, the selling rate for October was disappointing. The West European car market's annualised selling rate was estimated by LMC at a lowly 12.3m units.
LMC said that the selling rates over the last few months highlight that the market is facing tougher demand conditions than earlier in the year, and also suggest that there will be a weak start to 2012.
A key development is the weakening of demand in the German car market – one of the few market positives this year. In October the German car market was up just 0.6% year-on-year. When compared to the year-on-year performances earlier in the year, this is relatively weak — the selling rate also highlights that demand in this key market is softening. From the strong start to the year, where the selling rate averaged over 3.4m units a year for January-February, the full year outlook is now estimated at 3.2m units.
LMC also said that given the economic headwinds faced in Europe currently, the 2012 forecast for the German car market is not expected to see a significant change on 2011's projected 3.2m.
The Spanish annualised selling rate last month was just 740,000 units, the weakest selling rate since 1995. LMC warned that the Spanish car market will 'remain well below one million units for a number of years'.
In economically troubled Italy, the annualised selling rate fell to 1.62m units in October.
It wasn't a universally grim picture though. The French car market was relatively robust with the second month in a row achieving a selling rate of 2.16m units a year. And the UK market was up 2.6%, described by LMC as a good result given weak consumer confidence; the selling rate climbed to 1.94m units a year.
LMC forecasts that the West European car market will decline by 1.6% in 2011, to 12.77m units, with a further decline of 2% to 12.51m units projected for 2012.
LMC analyst Jonathan Poskitt remains concerned over the potential implications of the debt crisis in the eurozone and what it could do to dent economic growth and car markets further.
"At the moment, the risks seem firmly stacked on the downside given the clear worsening of the national debt crisis in Europe lately," he says. "If we get renewed economic recession in Europe, we could see the could see the West European car market fall back to nearer 11m units in 2012. That's where the running rate had declined to before the support from scrappage incentives was introduced across the region in 2009. For the automotive industry the big difference now is that governments are not in a position to respond with similar incentives and stimulus packages."