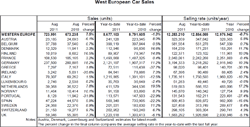 Car sales in Western Europe grew by 7.5% in August according to data released by JD Power Automotive Forecasting. However, while the August car market was up versus last year, JD Power said that last year's August sales were very weak.
In SAAR (Seasonally Adjusted Annualised Rate of sales) terms, the August result stood at 12.3m units a year, up a little from the July number, but still way down on 2010's outturn (which was just shy of 13m units; pre-crisis 2007 was a heady 14.8m units).
JD Power noted that the August SAAR was 'somewhat lower than earlier in the year when the selling rates in the likes of France and Germany were stronger'. The market forecast firm said that it expects to see the region's car market decline in 2011 (-1.4%), versus 2010. More worryingly for the industry, it is also now forecasting a further contraction to the West European car market in 2012 (-0.7%).
The market outlook in Europe is clouded by ongoing concerns regarding the economic outlook, both in Europe with the eurozone debt crisis and the US where there is an increasing risk of recession. The relatively strong start to car sales in 2011 will also make the year-on-year comparison especially tough during the early part of 2012, given current signs of underlying economic weakness.
Turning to the individual markets, Germany was a star performer last month, with sales up 18.2%. In selling rate terms, the market stood at 3.2m units a year. This is a little weaker than the year-to-date average though JD Power says that the selling rate has 'been up and down over the year as the market makes a rather bumpy recovery'.
In France, the August market remained 'fairly subdued' (+3.2% y-o-y) having, earlier in the year, been much stronger due to the spillover of 2010 scrappage incentive registrations. However, the selling rate stayed just above 2m units a year in August.
Another apparent positive was that Spanish sales were, year-on-year, up for the first time in over a year. However, the comparison is with a weak month last year and a SAAR of 810,000 units a year for August is still abnormally low. Italian sales were also up year-on-year, but again the selling rate continues to reflect market weakness at 1.74m units a year, JD Power said.
In what is a traditionally weak month for the UK car market, sales were up 7.3%.
As reported on just-auto earlier this week, JD Power has now revised its European light vehicle production forecasts down in the light of a weaker economic growth outlook for Europe.
See also: EXCLUSIVE: JD Power downgrades Europe's outlook