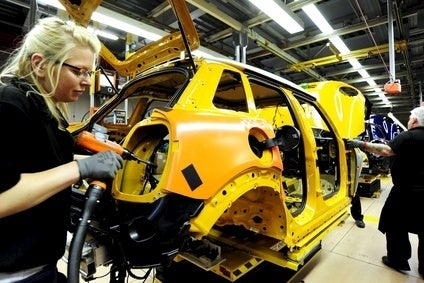 New car registrations in the United Kingdom rose 7% year on year in the first half of 2015 to 1,376,889 – a record half year result.
The previous record was 1,376,565 in H1 2004.
The SMMT noted that "British buyers are choosing more British vehicles" with UK-built cars taking their highest share of new registrations – 13.6% – in five years.
June was the record 40th consecutive month of growth with registrations up 12.9% year on year to 257,817 cars.
"Low interest rates and attractive finance deals, combined with a wealth of new models featuring the latest technologies, have continued to encourage consumers to purchase new cars," the SMMT said in a statement.
"A significant feature of recent months has been a strong surge in demand for alternatively fuelled vehicles, and this was once again the case in June with volumes rising 70.9%. Fleet registrations continue to drive the growth, although registrations to private customers remain strong."
SMMT chief executive Mike Hawes said: "It is still a great time to buy a new car in the UK, and it is encouraging to see more consumers choosing British models. This is important for the wider economy with 799,000 people now employed across the UK automotive sector, including retail. We anticipate a flatter second half of the year as the market finds its natural running rate."
David Raistrick, UK Automotive Leader at Deloitte said: "The fact an additional 29,000 cars have been sold in June 2015, taking total new car sales for the month over 257,000, is further testament to the strength of the recovery in the UK economy. The new car market recovery, having been initially supported by the private consumer, is now being driven by the fleet sector. This is up 13.1% as business invests in the renewal of fleet stocks.
"The total new car sales are now reaching a peak and we would expect limited additional growth when looking at the size of the UK car parc. This does not indicate problems in the market and simply demonstrates that, in reality, there are only a limited number of new cars that the market can absorb per annum.
"With there being little sign that the UK will see a significant interest rate rise in the near future, the anticipated slow down in the rate of new car sales is likely to be gradual. After all, by taking advantage of the attractively benign finance market, car buyers may still be persuaded to change their vehicles earlier than they would otherwise do.
"As last month's figures showed a decline in new car sales for both Germany and France, two of the largest European markets, motor manufacturers will be hoping that the UK maintains its current sales volumes."
See also: UK: Commercial vehicle sales set half year record